Bare Necessities at YourStory TechSparks'23!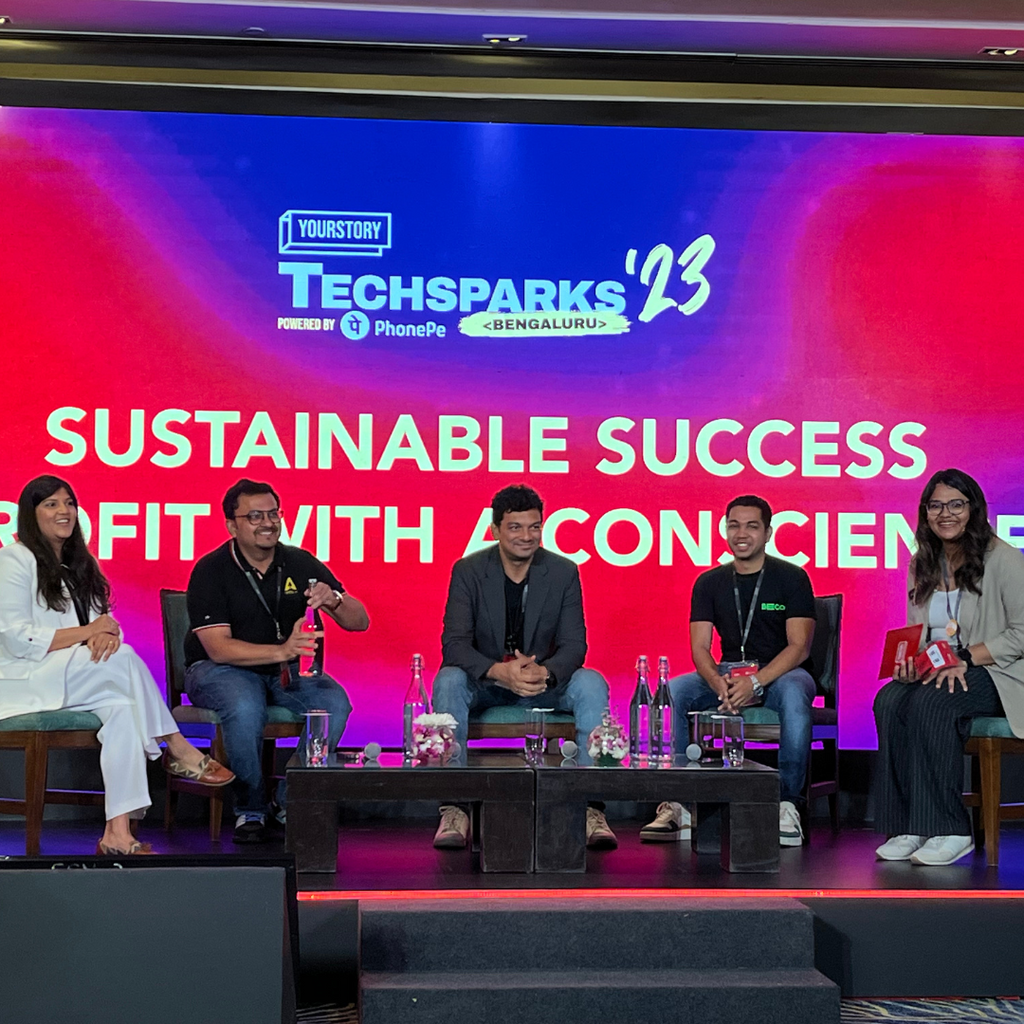 Seated in the city of startups - Bangalore, we are witness to a plethora of diverse business ideas that cater to different customers and the consuming decisions. Through all that we do at Bare Necessities, we promote conscious consumerism. Since we started way back in 2016, we have been noticing a steady rise in conscious consumerism and it is also reflective in the startup ecosystem. Startups are holding sustainability as a key cornerstone, striving to make a positive impact on the environment and society. 
Recently, our Founder & CEO, Sahar Mansoor, had a unique opportunity to participate in a panel discussion that delved into the world of sustainability-focused startups. Discussing distinctive facets of the business ranging from challenges to aspirations to the future this sector beholds, the audience was in for an insightful session ahead. This blogpost is dedicated to share some of the key learnings and takeaways from the panel discussion 
Skilfully moderated by Sowmya Ramasubramanian, Senior Correspondent at YourStory Media, Sahar was in conversation with Ankit Kedia, Founder and Lead Investor, Capital A, Cherish Tota, Director, Thefuture.green and Aditya Ruia, Founder, Becco. 
As a startup laying an inordinate important focus on sustainability, it takes copious amounts of time and patience to build a loyal customer base. Owing to the ethical and environmental considerations, sustainable products come with a higher price tag. Over several years, capitalism and the need to exponentially grow has led to extremely low-priced products at the cost of our ethical, environmental and social values. 
Under this backdrop, transparency is critical when it comes to sustainable products. Startups must communicate the long term benefits of their products to customers. Reduced environmental footprint, durability, impact on health, environment and conscious consumerism are facets that need to be communicated to customers. Weaving an engaging story that not only educates, but also convinces consumers that the initial higher cost is an investment worth making. 
To achieve a sustainable future, it is absolutely essential that we consider the environmental externalities of our consumption choices as customers and as brands building such solutions. This involves everyone understanding the 'true cost' of our consumption. Over the years, earth friendly alternatives are becoming more easily available than ever before. For instance, solar energy prices have  become accessible with time, thanks to innovations and a conducive policy environment. Electric vehicles are following a similar trajectory as they are becoming increasingly common. As we move ahead, we hope to see that everyday necessities such as clothing, personal care and home care products undergo a similar transformation.
Investors looking into the sustainability sector are not only interested in the financial sector, but also the positive impact that a startup can create. Taking a holistic approach to running a business through tools such as the 3 P's - People, Planet and Profit, helps maintain balance, while providing stability and sustainability. 
The insights received from this event speaks to a growing movement that seeks to address climate change in different ways. We are also seeing times where increasing awareness amongst customers, creates a golden opportunity for sustainability startups to thrive. 
For more details on this event, check out the YourStory article!