Green Your Time of the Month. Period.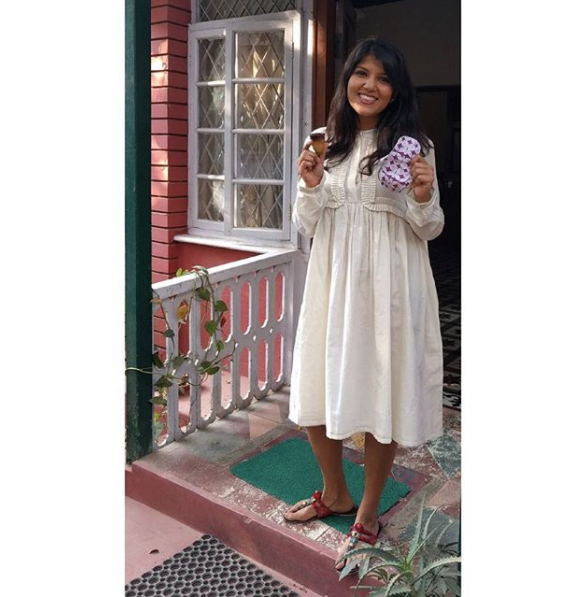 Green your time of the month by using a menstrual cup they are healthy, environmentally friendly and economical!
Let's talk about periods baby! Let's talk about you and me!

Did you know women have been using the menstrual cup since the 1920's with no negative health impacts associated with it?
Did you know you can use the cup for 10 to 15 years? Did you know tampons contain bleached rayon - a material that creates the possibly carcinogenic byproduct dioxin? Plus the bleach and cotton drains your body of healthy fluids! You could also get toxic shock syndrome from using tampons, a bacterial-spurred illness.
Did you know pads have an equalvent of 7-9 plastic bags in it, taking 200 years to start decomposing?
Do you like the idea that your local municipality cleaner has to sort your pads and tampons?
Did you know you could save approximately Rs 12,000 in 10 years by switching to menstrual cups?
----------------------------------------------------------------------------------------------

Alright, now let's deep dive into these facts!  
There is no official data on menstrual waste in India, but on average, a woman is said to have 3,500 days (between the ages of 12 and 45) of menstruation. According to Down To Earth magazine there are about 300 million menstruating women in India. Allotting 12 sanitary napkins to a woman per month, it found that this added up to 432 million soiled pads, weighing a staggering 9,000 tonnes a month – enough to cover a landfill spread over 24 hectares. A non-biodegradable product, that takes 500-700 years to even start decomposing. The plastic would end up going into the soil, leaching toxic chemicals into the soil, contaminating ground water, and clogging the world's oceans and rivers. If you are on camp tampons, you will consume 9,600 tampons during your entire menstrual life cycle. Purchasing organic tampons and pads sidesteps the problems of chemicals, pesticides and GM cotton.

HEALTH BENEFITS OF MENSTRUAL CUPS:
o   DO NOT LEAK HARMFUL CHEMICALS INTO YOUR BODY
Traces of dioxin (a known carcinogen) and the synthetic fiber rayon are also found in tampons. Dioxin is a by-product of the bleaching process in the manufacturing of tampons and the synthetic fiber rayon can leave residue in the vaginal wall. According to the World Health Organization, dioxins are highly toxic and can cause reproductive and developmental problems, damage the immune system, interfere with hormones and also cause cancer.

o   DO NOT ALTER THE NATURAL PH LEVEL OF YOUR VAGINA
More than a quarter of the fluids absorbed by a tampon are, in fact, natural and necessary vaginal secretions. When you insert a tampon it just absorbs everything. The cup doesn't absorb anything and doesn't not alter the natural chemistry of your vagina.

o   NOT ASSOCIATED WITH TOXIC SHOCK SYNDROME
Cups do not carry the risk of Toxic Shock Syndrome (TSS) associated with tampon use.  Toxic Shock Syndrome (TSS), a type of staph infection that arises when a tampon provides a breeding ground for bacteria in the vagina during menstruation. it is scientifically proven that menstrual cups don't change the composition of blood during the time the cup is kept inside the vagina. There are no reported cases of TSS in connection with use of menstrual cups since the cups were invented in the 1930's. 

o   MADE WITH SAFE MATERIALS - MEDICINAL GRADE SILICON
I've heard some women say that they did not feel safe putting plastic in their body. I get it: silicone isn't exactly a product of the earth. But I feel safe since silicone does not leach chemicals into your body and no safety issues have been reported, even with silicone bake-ware when it is subjected to very high temperatures. But for those who would prefer an alternative to silicone, there is a brand made from natural gum rubber (latex).

ENVIRONMENTAL BENEFITS OF MENSTRUAL CUPS:
o   Saving 5,760 sanitary pads/ 9,600 tampons and tons of boxes, plastic sachets, applicators from landing in dustbins, landfills, seas and rivers in your menstrual life cycle.
o   Reducing waste of resources in the production, transportation and disposal of menstrual products

ECONOMIC BENEFITS OF MENSTRUAL CUPS:
It is a one-time Rs700 investment that yields waste-free periods for about ten to fifteen years.
Let's look at the economics of a menstrual cup
Menstrual Cup:
Rs 700 x 1 purchase for ten years = Rs 700
Tampons:
Rs800/box x 2 boxes/month = Rs1600/month x 10 years = Rs 16,000
For a net savings of: Rs 15300
A menstrual cup costs as much as a box of Tampons if not less.
Additionally, you are saving public money - local governments spend significant amount of their budgets on waste management.

OTHER BENEFITS OF MENSTRUAL CUPS:
o   You can safely leave your cup in for 24 hours, but it is recommended to empty and wash it every 12 hours at least.
o   Less changing hassle.
o   Less things to carry in your bag.

CHOOSING AND USING A MENSTRUAL CUP:
Choosing the best menstrual cup is dependent upon one's size. To help you choose which cup is best suited to your flow and size I suggest a visit to menstrualcup.co to view their comparison chart. I highly suggest watching an instructional video before using a menstrual cup as it takes a little time to adjust to. If want to support an Indian company, check out Boondh and TruCup, one of the only menstrual cups made in India, and I am darn proud of them! Moon cup and Diva Cup are popular UK and US brands respectively. To answer some frequently asked questions about menstrual cups check out the Menstrual Cup's page. 
Let's sum this up, pads and tampons cause environmental harm, waste resources, compromise women's health and are unnecessarily expensive. Menstrual cups are awesome. Buy it. Use it and you will never go back!