A Bare Spotlight On Zero Waste Products: Body and Face Care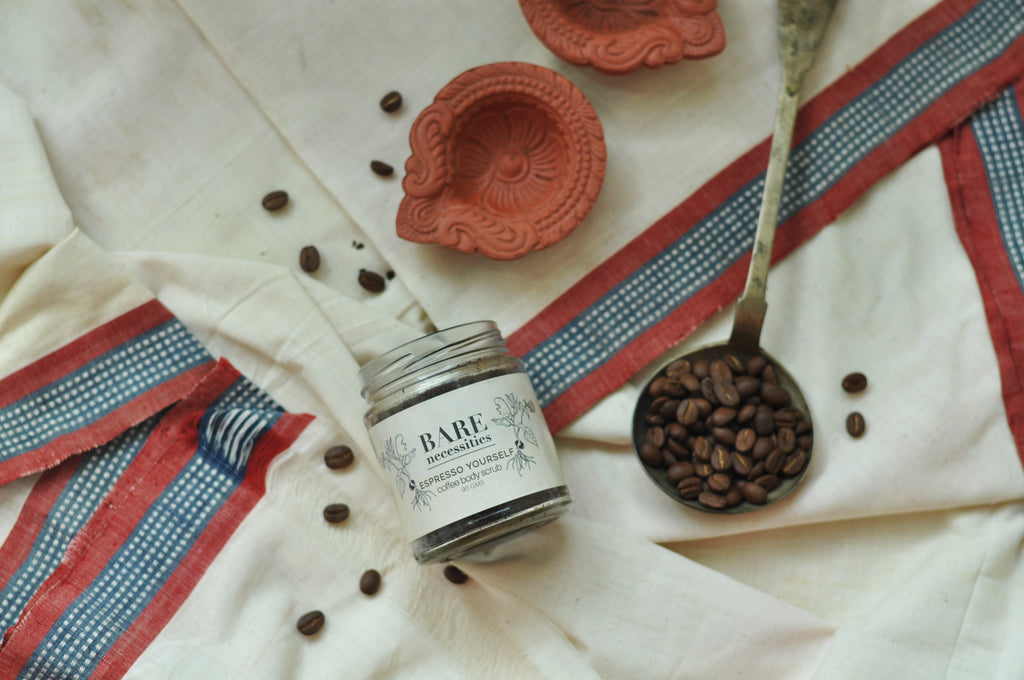 There are numerous zero waste products available these days that help people transition away from using products that are packaged in plastic and/ or contain harmful chemical ingredients. 
Speaking to Founder & CEO of Bare Necessities Zero Waste India, Sahar Mansoor, this interview series looks at the reasons why the Bangalore based social business chooses to provide alternative, earth friendly options to consumers in India.
---
"There is some evidence that paraben is partially at fault for killing off coral, and more than a few scientists believe that this chemical is a hormone disruptor in dolphins and other marine wildlife" (source). 
---
What materials are used for your body and face care range? 
We have a large range of items, so we use a variety of natural ingredients. 
We use an ecosystem approach, or in other words we work collaboratively for local sourcing with different partners. Before I list the materials, I want to expand on this with three big shout outs, firstly to Mason and Co. for sourcing cocoa butter and cocoa powder. While the coffee grounds are from two other enterprises, Third Wave Coffee Roasters and Blue Tokai Coffee. This is what I mean by collaboratively working together, it is about knowledge and resource sharing! 
Now, the materials in our body and face care products. 
They range from cotton wool for our reusable makeup remover wipes and rose water and coconut oil for our rosy cheek makeup remover. To organic cocoa powder and cornstarch for our dry shampoo. Beeswax, shea butter, organic almond oil, organic coconut oil, organic honey and vanilla extracts, cocoa butter, and vegan soy wax for our two varieties of lip balms. 
Epsom salts, rock sea salt, organic coconut oil, lavender or lemongrass essential oil, lavender buds or rose petals for our two varieties of bath salts. We also love to use ingredients such as organic green gram powder, organic gram flour, multani mitti, orange peel powder, organic coffee powder and organic coconut oil for our face and body scrubs.
Why do you use this type of material? 
Designing with material that does not harm the environment is key to our goals and objectives as a business.
Many of the ingredients we use are found in abundance and are of top quality in South India. We try and minimise all impact throughout our entire business by utilising circular economy methodology. Due to this we try to utilise resources that we have locally that will not end up in landfill or harm the planet or people in other ways.
Why design it in this way?
When I first started looking at the waste in my life, I realised that the majority came from my personal care products. Assessing the situation I realised that all of the FMCG products that I was using, and are widely available to consumers in India, are all packaged in plastic, have harmful chemicals in, or are aerosols etc. 
I wanted to use natural alternatives and I was sure other people in the country did too. 
We sought to design products that were made from organic material, packaged in recyclable and/ or reusable containers to provide earth friendly alternatives. It is really all about providing an alternative that was not available before. Each product is a step away from using harmful ingredients or adding plastic to the environment!
Where did the team gain inspiration for this product from? 
We undertook research on numerous locally grown products in order to design these items. We wanted to ensure that there are no harmful side effects for people or the planet when designing. Our inspiration came from nature itself, especially our local ingredients.
One of the big bonuses of being in India is that when we looked at products that we used traditionally, such as green gram and yellow gram, which used to be widely used for Indian bucket baths, we could utilise earth friendly recipes that used local ingredients. 
From this 'eureka moment' we experimented and found new and exciting varieties of 'Grandma's recipes' to create into our own zero waste products.