Employee workshop with SBIMF - State Bank of India Mutual Fund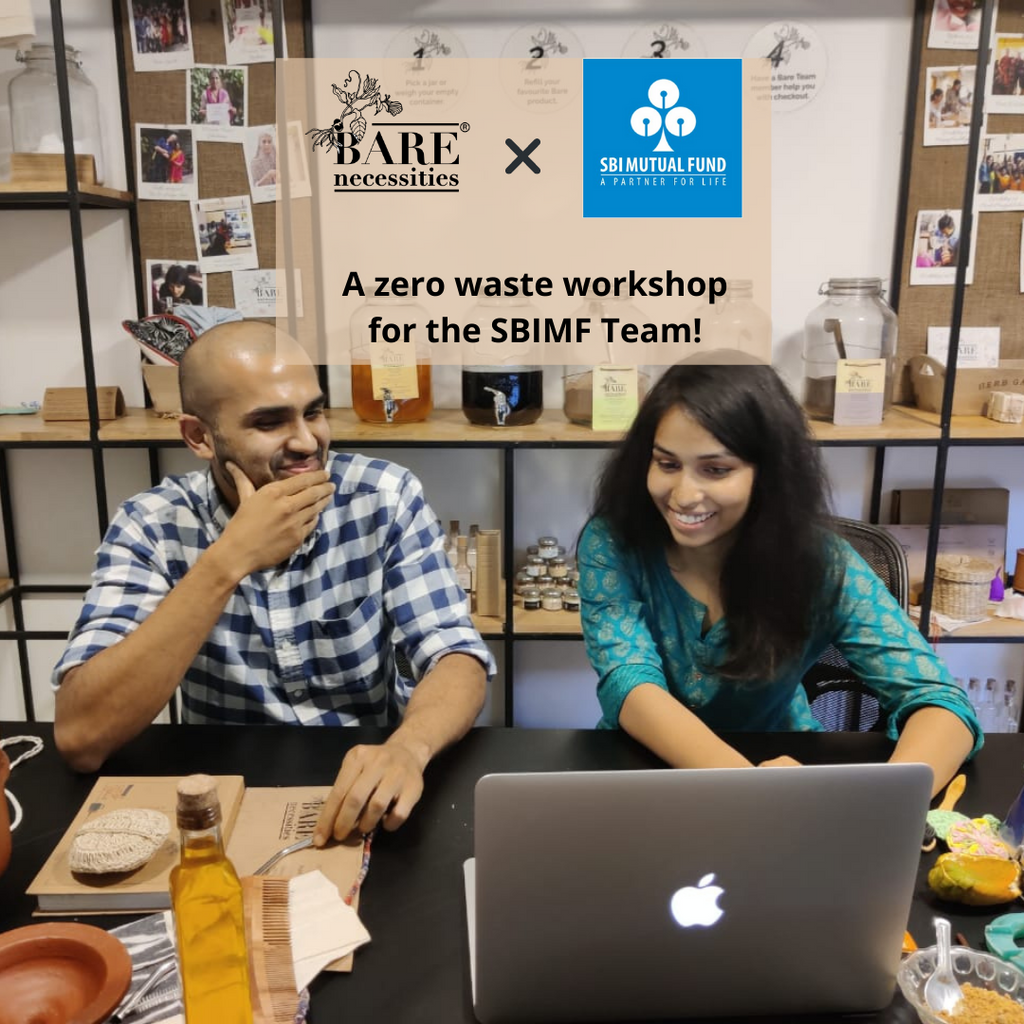 It's no secret that we at Bare are quite crazy about all things zero waste living. We practically eat, sleep and breathe zero waste living with our range of lifestyle and personal care products, online courses, workshops and more. One of our favourite aspects about the job is our talks and workshops; where we get to help break down zero waste living to people with lots of insights, tips and fun DIYs. 
We witnessed a steady rise in the interest in these workshops across the pandemic, primarily because most of us had the time to sit up and notice all that was happening to our environment and wanted to do something about it. We were extremely privileged to be given the opportunity to share our experiences with zero waste living with several amazing businesses and schools over the past year including LinkedIn, Flipkart, Byju's and many more.
Collaboration with SBIMF for a Workshop on Zero Waste Living
 We're all aware of India's favourite bank and mutual fund partner - SBI Mutual Fund. What's amazing is that the organisation was keen to help their employees lead a mindful lifestyle and help them do the same by gifting them zero waste bundles from Bare. 
SBIMF decided to take this to the next level by helping employees really get started on making zero waste changes in their lifestyle through our workshop on All Things Sustainability. 
We were beyond pumped for this workshop and tailored content specific to the SBIMF employees and the kind of environment they live in. We learnt about getting started on sustainable living, eye-opening facts on the garbage crisis and practical, easy to follow tips on going zero waste in the bathroom, transport, travels, work and more. We brought some of these tips to life by demonstrating easy ways to make your own bio enzyme cleaners and compost all that food waste at home. Want to learn more about these DIYs? Feel free to contact us!
SBIMF's experience with the workshop
We believe that the participants had a good time with us, but you know how the saying goes, 'Seeing is believing. Here's what Marilyn Misquitta, the Deputy Manager of Learning & Development at SBIMF had to say, "This was an extremely interactive workshop full of learning and practical advice on sustainable living, which is the need of the hour.
The session was interspersed with key highlights on how each of us can make small changes that can contribute to a larger cause as well as practical and easy DIY's.
Mehul and Reshma (the Bare team) shared great insights and covered large ground on the topic including tons of questions from our audience.
Thank you Bare Necessities for giving us an impactful session!"
If you're looking for ways to help your employees or organisation learn more about zero waste living and its importance in today's day and age, we can help you do just that with our bulk gifting bundles, interactive workshops and more!
Feel free to reach out to us!
Honestly, we often feel that we end up gaining more from these workshops on zero waste living because we have the privilege of interacting with so many enthusiastic people, keen to learn about ways they can make a difference through their lifestyles. 
The most rewarding aspect is quite often the feedback we receive from the participants and the images they send of themselves making these changes in their lifestyles. It makes all of the hard work worth it, at the end of the day! Apologies if this seems too mushy; surely you can tell by now that we're crazy about these workshops. 
So what are you waiting for? Contact us to help your local communities, students, employees, organisations, or anyone else interested in making a difference do just that! We'll be waiting at info@barenecessities.in ;)