'Masked' - A series of interviews with inspirational women. Part 1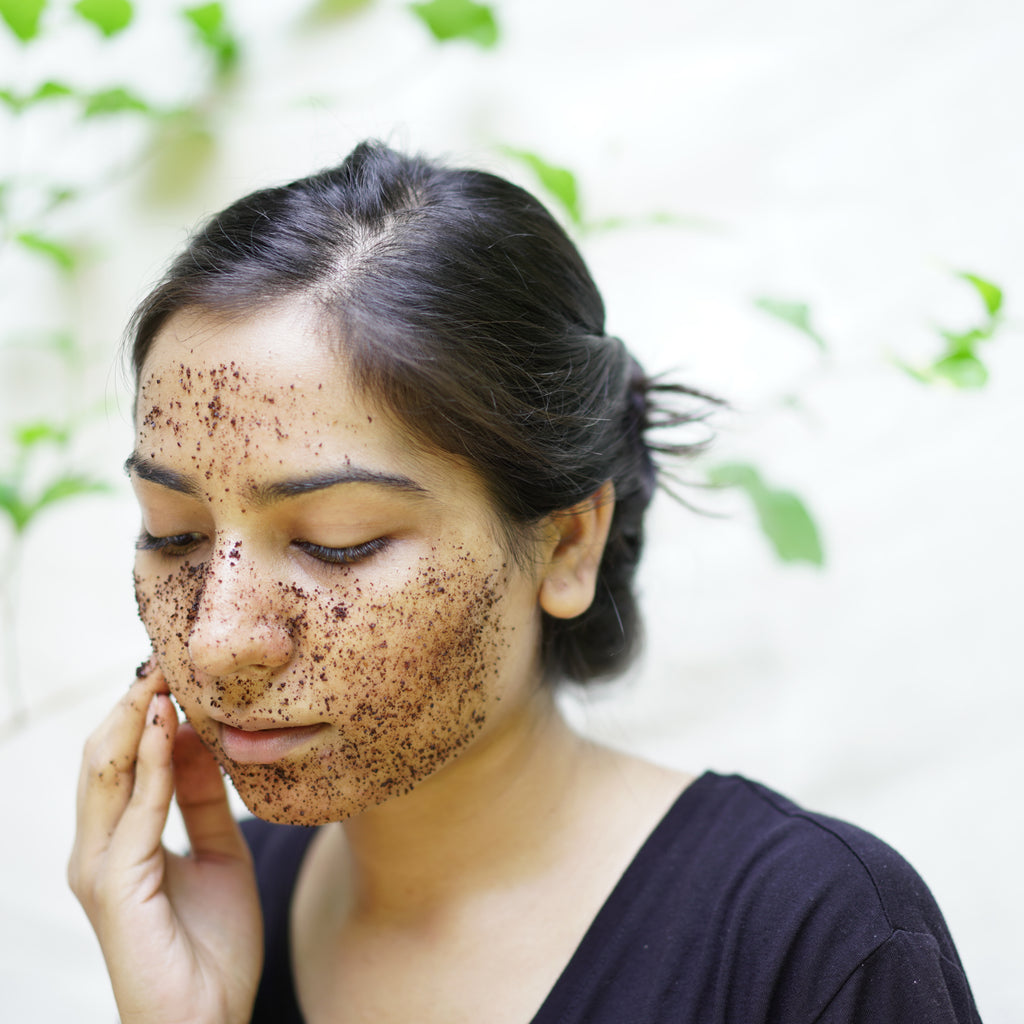 Meeting people with the same temperament is always a boon. And, when we stumble upon such nice souls who share our vision and wish to walk the path with us, it's even more rewarding. That happened when we met Vidhi Khandelwal at the opening ceremony of Fab Café. An illustrator and painter by profession, she is the creative mind behind the beautiful murals that adorn the walls of Fab Café. Getting to know her did open new doors for us at Bare Necessities. All we had to do was extend our hand, and she took it.
Espresso Yourself - A Body Scrub with all things coffee.             
Vidhi Khandelwal, our first lady of the 'Masked' series
As you all must know every month we work on different concepts that we believe in, and share them with everyone. So, for this month, our theme was 'Masked'. It's a special interview and photo series where we take a look at natural skincare rituals of women we admire. And, it was an extreme pleasure when Vidhi agreed to spend few insightful hours with us. Just like her beautiful paintings, she is a sweetheart to the core. We were also quite bowled over by her Instagram page which resembles a pretty garden. Fresh and tranquil. You can head over to her page here: @theinkbucket 
A peek into her Instagram page
The interview was scheduled on 27 April at 12 noon. Amid a humble setup, talks and lots of laughter we had a playful time shooting Vidhi. The chosen product was Espresso Yourself, a body scrub with all things coffee. Along with the shoot, we had been in continuous conversation with Vidhi and we were elated to know that her thoughts on skincare align with our thought process.
Here are a few excerpts from the shoot and the Q&A session over mail. We had just put forward two questions which she happily agreed to answer.
Q:  Tell us a little about what you do, and how you got started?
Ans: I am an illustrator and entrepreneur and I started painting when i was in school. After my graduation, I decided to turn my passion for art into a career and started The Ink Bucket. I love the traditional painting process and I paint every day for a living.
Q: "What is your self-care routine to restore balance, given your busy schedule? (It could be anything from yoga, to going for nice walks or treating yourself to some coffee, massage, occasional weekend face masks, etc)"
Ans: "I cook every day to take a break from work. Tea is a part of life and my days don't start without a good hot cup of tea. Apart from that, I find yoga and working out extremely relaxing.I try to use a honey and lemon or a natural homemade face mask every once in a while whenever the work stress starts showing on my skin."