Say hello to our newest team mate!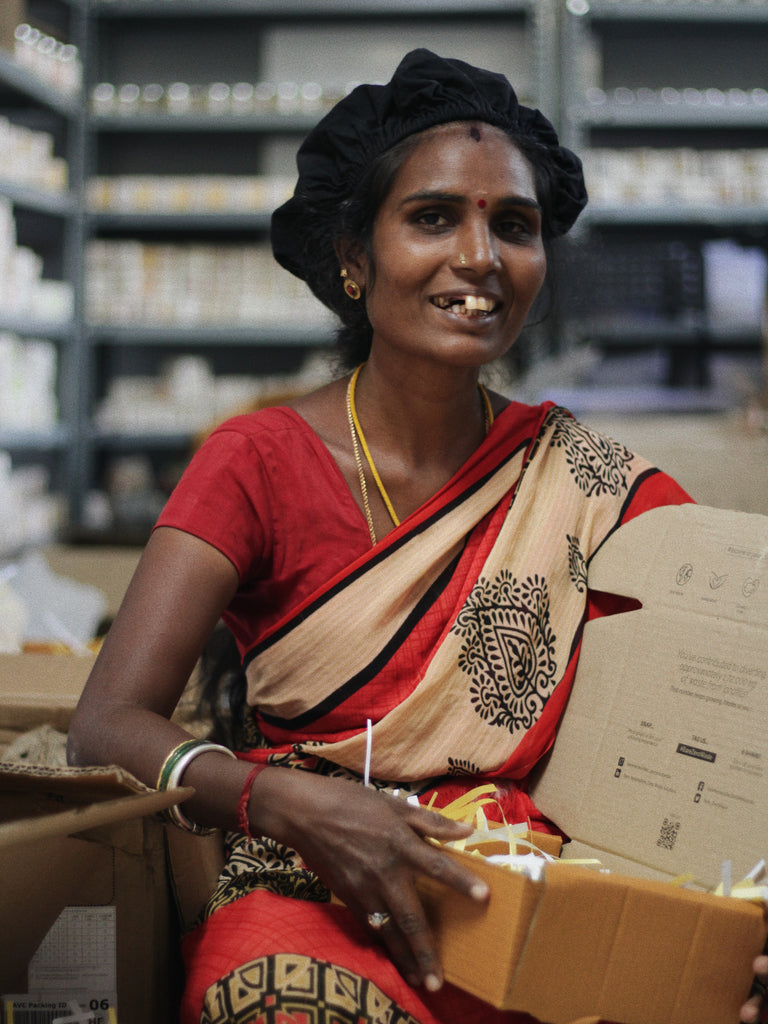 While we were walking towards our manufacturing facility, we could hear Chitra chuckling, whilst in conversation with Bhuvana. Though she was engaged in dialogue, she had a great hold over the task that she was doing at the moment. Patiently sieving through Kerehaklu's waste coffee grounds, with unwavering focus. 
As we entered the room, she made space for us to enter and generously shared her story with us. Prior to Bare Necessities, Chitra was working at Hasiru Dala for 4 years. During her stint there, she meticulously segregated waste from scrap materials. After which, the scrap was taken to be recycled. Hasiru Dala is an organisation that works closely on empowering informal waste pickers or waste warriors (as we like to call them). While speaking to Chitra, we understood that they helped her get documents such as Aadhar Card, Ration Card among others. Additionally, they organise ration drives once a month, to provide essential food items.
Chitra shares a close friendship with her colleagues at Hasiru Dala, and resonates a similar feeling at Bare Necessities too. She loves speaking to the women here, who are also helping her learn the ropes on her job here. She adds that they not only keep her company but also cheer her on and entertain her when she's feeling low. 
At Bare Necessities, she helps out with housekeeping duties at the office, production and some packaging and labelling work. She intends on expanding her manufacturing skills and is confident she can reach there with the help of her newfound buddies. 
Each day at Bare Necessities serves as a strong testament to the fact that women uplifting other women set the ball rolling for welcome changes. And Chitra's story is another feather on our cap. 
Chitra is the first waste warrior on our team and we are so grateful for the Techtonics Program in association with Social Alpha and Saamuhika Shakti for helping make this a reality. We are sure Chitra will be the first of many waste warriors to be a part of the Bare Fam!