Sustainable travels - Don't destroy what you came to enjoy!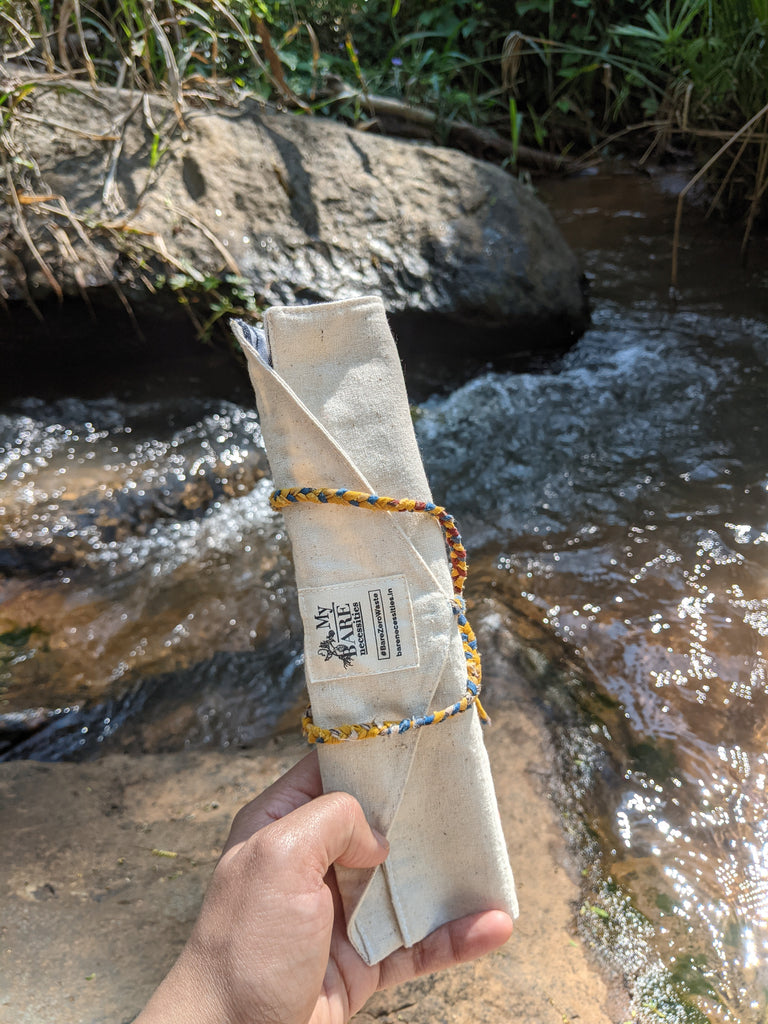 Dream of para-para-paradise, Para-para-paradise. We've all been dreaming of it for most of 2020, haven't we? Beaches for paradise, mountains for paradise. Now that we're slowly able to travel again, we can finally love our dreams. But do we leave paradise behind as it was or add in a strew of wrappers, plastic cutlery, bottles and other non-recyclable waste?
The World Wildlife Fund reported in June 2018 that more than 200 million tourists visiting the Mediterranean every summer cause an almost 40 per cent spike in plastic entering the sea. 
With 80 per cent of all tourism taking place in coastal areas, plastic from the sector can be a large contributor to this pollution.
Apart from marine pollution, there are the added factors of emissions caused by travel, noise, use of natural resources and more. 
Phew! That's quite a list. But is it really possible to stay sustainable while travelling?
Yes, we believe you can seas the day as a zero waster while still getting that beach tan!
Pack your Bare Necessities with you:
one of the biggest sources of waste tourists create is through packaging and single-use items used during travels. Going sustainable with daily use items like reusable cutlery, cloth bags, spa bars along with shampoo and conditioner bars will ensure you're travelling right and light! 
Sounds like too much work? We've got your back with our zero waste travel kits! With wooden cutlery, straws, upcycled pouches and more, these kits will ensure your travels are waste-free.
What's more, we've partnered with Vista Rooms - South Asia's largest network of top tier homes, to give you a flat 10% discount on bookings with Vista Rooms when you place an order worth more than INR 5000 on Bare Necessities website or accumulate Bare coins more than 5000. Who said zero waste living is plain and boring?!
#GoVocalForLocal:

The pandemic really showed us the importance of our local chaat walas and eateries who we may not have valued as much. While the only part inconvenienced may have been our taste buds for us, these vendors and business had their livelihoods threatened. It's all the more vital that we now try to eat and shop local when travelling. Of course, it's no secret that these places also unearth the best flavours and always ensure the food isn't daal ;)
Additionally, walking around and exploring local places instead of mainstream tourist spots by foot will definitely leave you saying, "Incredible India!'
Pack lightly:

whether you're an over-packer or not, there's no denying that there is comfort in packing light. We previously collaborated with the sustainable fashion blogger,

Dhwani Kathotia who penned down an amazing article on the beauty in a capsule wardrobe, especially while travelling.

Not only does travelling with carry-on luggage reduce your carbon footprint, it also saves you time in your destination,'

We recommend you check out that article before going ahead to help you and the planer look your best! (We bet that's an offer you cannot refuse)
Carbon offsetting:
Consider paying an extra fee for a carbon offset. What's that?  A carbon offset is a method of compensating for the carbon dioxide emissions generated through your travel through a variety of ways such as planting a tree. This may require some research to find the perfect airline to do the same, but hey, no pain, no gain!
We can go on and on with these tips and ideas to be a sustainable tourist, but we bet you've got other things to do. Instead, you can check out this really cool illustration on zero waste travel by Noorain Ahmed so you can continue exploring the world and don't destroy what we came to enjoy!