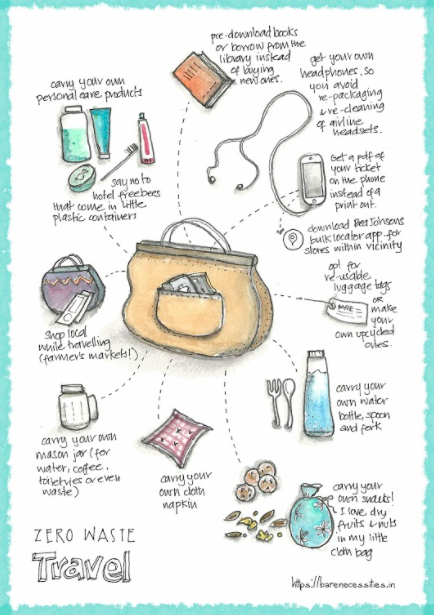 Get a PDF of your ticket on your cell phone as opposed to printing it out
Opt for reusable luggage tags, or make your own upcycled version at home ahead of time.
Carry your own water bottle, spoon and fork
Carry your own snacks - (If you know me, you know how much I love dry fruits and nuts in my little cloth bag!)
Carry your own cloth napkin
Carry your own mason jar / recycled jar glass jar (multi-purpose, a mason jar can be used for water, coffee, toiletries, and even waste)
Carry your own headphones, so you don't have to break into the airline's headset that comes in plastic and that needs resources to clean and package again for it's next use. Pre-downloading podcasts before your trip so you have entertainment before, during, and after take-off (also a great companion for road trips!). Pre download your books or borrow from the library instead of buying new books
Shop local while traveling (farmer's markets are my favourite!)
Download Bea Johnson's "Bulk Locator App," You can literally put in anywhere that you're traveling to and see where there are stores that offer bulk products within your vicinity.
  Bring your own personal care products and so say no hotel free bees that often come in little plastic containers.
(Sharing the post and illustration for education and awareness is encouraged, however not without attributing credit to barenecessities.in and the illustrator Noorain Ahmed)