Sustainable Gifting | Gift Mindfully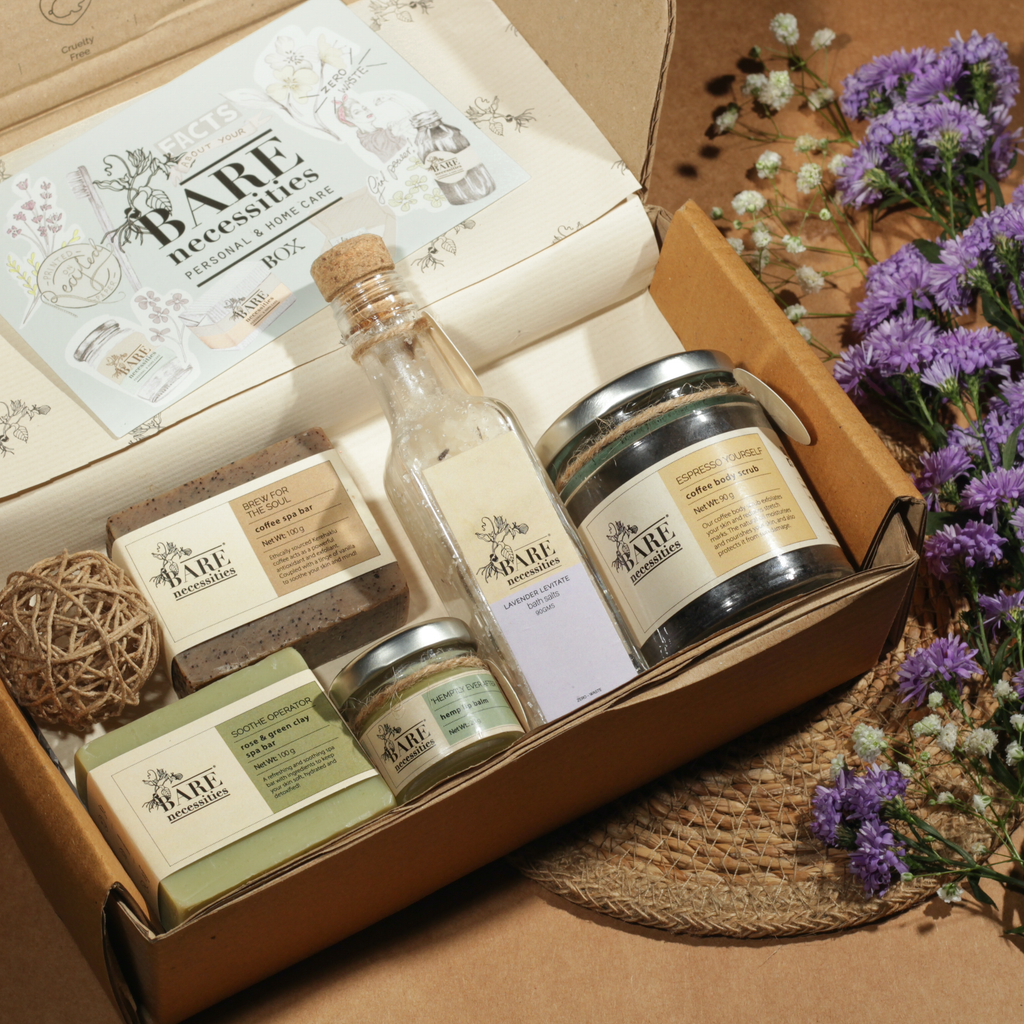 Festivals are a wonderful time for us to pause and reflect on the impact of our actions. With gift exchanges and celebrations in full swing, practising mindfulness is a beautiful way to express love and gratitude to our loved ones. Did you know, some of the largest waste generated in our country is actually during festive time? Every year, millions of tons of gift wrapping paper and ribbon end up in landfills - enough to wrap around the Earth 24 times! Single use plastic wrapped gifts and unsustainable decorations contribute significantly to the waste generated. 
We're here to make your gifting season easier with a bundle for everyone! 
Go slow and glow in the glory of our one stop self care bundle - the Glow Naturally Gift Bundle! It makes for a perfectly thoughtful sustainable gift option for friends, family or even yourself! 
Our zero waste, earth friendly and handcrafted hamper consists of:
For all the men shining in sustainability armour, we have a Men's Gift Bundle, specially for you. All the eco-conscious men out there, treat yourselves with our Bare Goodies! Neem comb for your beards, anyone?
 Each bundle consists of: 
Festive season is the best time to express gratitude to your loved ones. And the best way to do it is with our Gratitude Gift Bundle, filled with the best of our Bare Goodies! Siblings, parents, friends and folks, gift it to everyone you are thankful for! 
Our zero waste earth friendly and handcrafted hamper consists of:
The season of joy has arrived and so has our Happiness Gift Bundle! Revel in the delight of Bare Goodies that enhance the well being of your mind, body and the planet! 
Our zero waste, earth friendly and handcrafted hamper consists of:
Caring for the planet is the new cool thing! Gift our revolutionary waterless formats with our Clean Home Necessities to get everyone around you on the sustainability bandwagon! 
Get these in the bundle!
So, whether it's self care, home care, planet care, sustainability or more - we've got a bundle for everyone!
In our fast paced world, where we are so deeply entrenched with our endless task lists, convenience inevitably takes centre stage. Balancing hectic schedules with living sustainably can feel like walking a tightrope. And that's where our sustainable gift bundles come in! Our thoughtfully curated gift bundles not only promote self care but also care for the planet.