An eco friendly gifting guide for this Holiday Season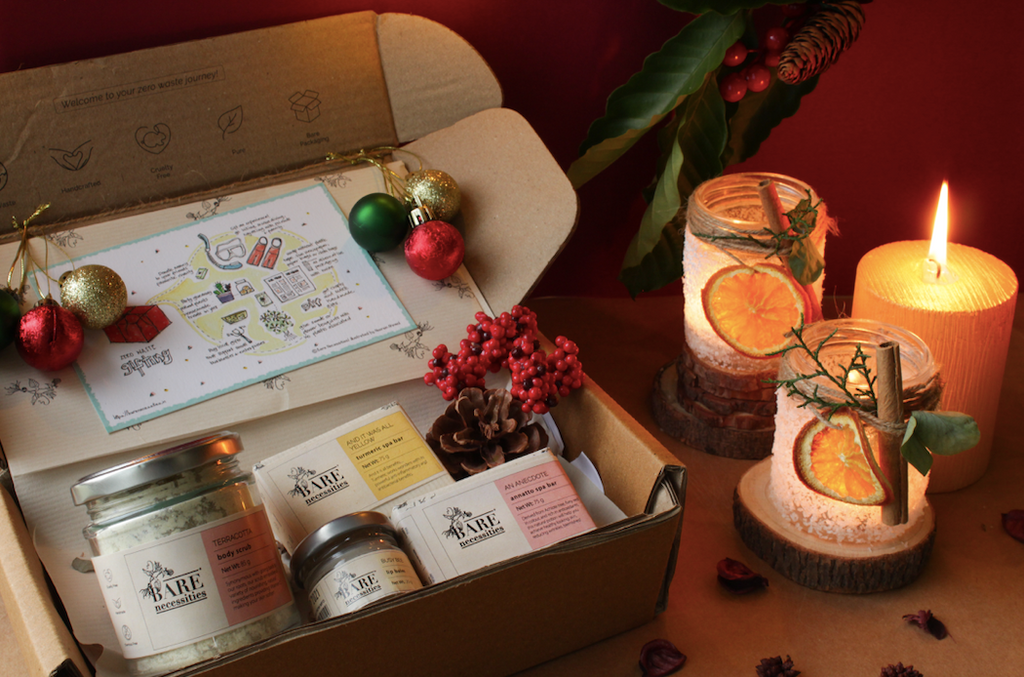 It's called the gifting season for a reason. Whether it's for Christmas or New Year, you can always find friends and family gifting each other apparel, accessories, or a cake at the very earliest. Small or big, the act of giving is a special experience. And if we're going to be doing it, we might as well do it the right way - with gifts that matter. 
But gifts that matter to you may not quite hold the same value to your parents or vice versa. Which is why it is important to understand what your recipient values and supports before hunting down something for them. Here's a blog we shared last Christmas, guiding you through a few mindful gifting options. But of course, if you're looking for gifts that serve your Bare Necessities while being ethically made you've come to the right place!
We've curated a bunch of gift bundles this Christmas that have been designed to suit your recipient's daily needs without compromising on your gifting budget for the year. 
Got a vegan friend who loves supporting labels that reflect the values they care about? Get this Vegan Gift Bundle that brings joy and happiness the plant-based way! We've packed it with some of our favourites like The Hemp-ily Ever After Lip Balm, and incidentally call it the Happiness Gift Bundle.
We've all got some thoughtful souls in our life, right? Our parents especially! While expressing our gratitude is something very personal, you can always get on the right foot with our Gratitude Gift Bundle designed for just this. 
There's always someone in our lives that takes their skincare seriously. Gift them that naturally glowing skin they fangirl over with this new Glow Naturally Gift Bundle containing our classic Coffee Body Scrub, among our other favourites like The Spa Bars and Lip Balms (that last you a whole year!) 
And finally, you know what they say about self-care, right? It's the best gift you can give yourself. At least, that's what we like to say. Amidst making the special people in your life feel like a million bucks, we're here to tell you it's important to do that to yourself too! Try this Your Self Care Necessities Gift Bundle to take mindfulness with yourself to a whole new level. 
We trust that you've found something among these bundles that suit your needs this Holiday Season. While you're at it check out our holiday gifting guide to get a visual idea of what you can expect with these bundles. If they aren't a good fit, we'd love to know the reason behind this, since we're constantly trying to improve and become more inclusive.
A concern consumers often come back to us with is that our products are slightly expensive at times. We hear you! Honestly, we're trying, but it takes time and support from you too. Why is that?
As of now, it's bigger than the price point:
Our ingredients are ethically sourced and support local communities and artisans!

We make sure our packaging is zero waste no matter what!

We have an amazing local women-run manufacturing team and are learning computer skills and English!
Ultimately, it's bigger than the price point. Let's understand the true, real cost and story behind the products we buy and what we are supporting. From the people behind all that we buy,
to what's actually in it.
P.S. The more this happens, the more businesses like ours grow = the more affordable sustainable options become!