Frequently Asked Questions about Shampoo and Conditioner Bars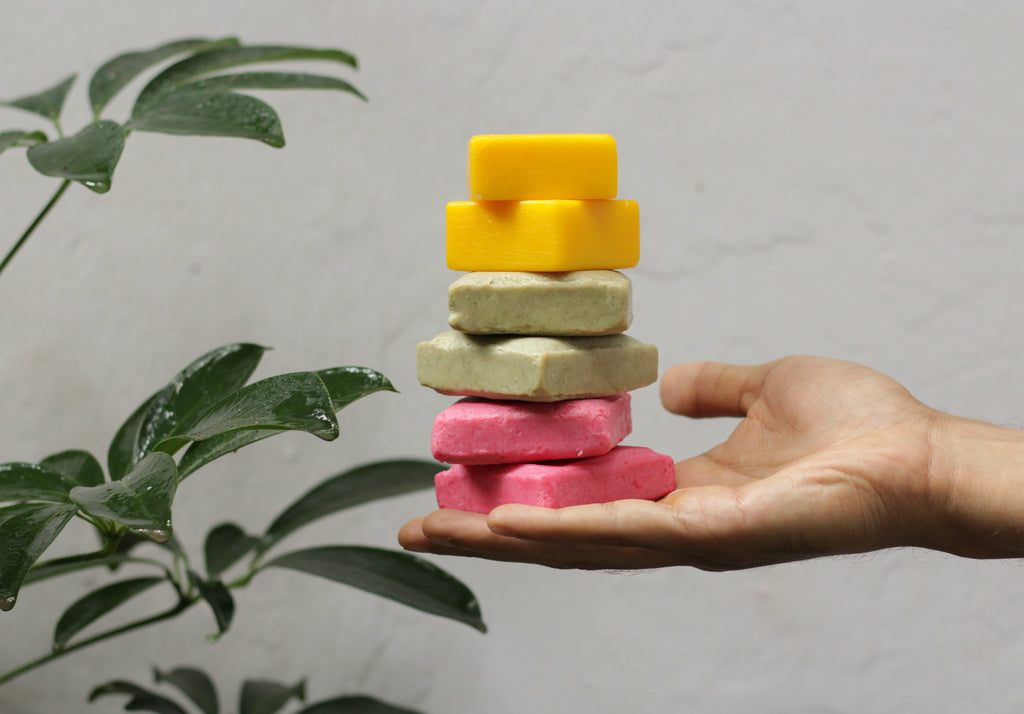 Unless you've been living under a rock, you'd have heard about our newly launched shampoo and conditioner bars - concentrated, cost-effective and travel-friendly version of the conventional liquid shampoo and conditioner. While this is a big win for all our zero wasters, it is a relatively new concept for a lot of us as well. How do we use it? Is it as effective as my regular hair care product? Can it help me achieve my hair goals? 
Well, let's dissect some of these frequently asked questions, and see what we can learn. 
Q. How do I store these bars? What if they get wet?
A. Aim to store them in a cool dry place - an open soap tray, if possible. A wet bar can be your shower's worst nightmare. They turn mushy, soggy and may cause a mess in your storage space. Keeping the bars dry can ensure they last longer, are tidy and easy to use. 
Q. Are these formulated specifically for coloured hair/textured hair?
A. The Bare Shampoo Bars are non-sulfate based shampoos; they extend the life of your hair colour because they do not contain these harsh detergents. They are gentler on the hair and will not strip it of the colour. 
Since they are formulated with plant-based surfactants and are completely sulphate free, they are safe to use on coloured hair. We'd strongly suggest you follow up with our conditioner bar that helps restore shine and smoothness to damage caused by colouring agents. 
Q. Can I leave the conditioner in my hair as a leave-in conditioner?A. Our conditioner bar can be used as a leave-in conditioner to style your hair, yes! However, be sure to apply it only onto the strands of your hair and not the scalp.
Q. How often do I use these bars on my hair?
A. Depending on your lifestyle and daily routine, you can shampoo and condition your hair two to three times a week.
Q. How do I make my bar last longer?
A. The #1 hack to increasing the life span of your bars, is again, its storage! Storing in a dry place is key. 
Q. Can I use it on my body?
A. Yes, our bars are multipurpose and can be used for the body as well.
Q. Can these target my hair and scalp issues?
A. Our shampoos are pH balanced and contain enriching ingredients which can help you with your scalp and hair issues. However, we suggest you consult a dermatologist for hair-related medical issues before taking the leap.
Q. How do I carry the bars with me while travelling?
A. You can carry it in an aerated pouch or a reusable container that can be dried well.
Q. Is it kid-friendly?
A. Yes, our shampoo bar is kid-friendly. 
Fun fact - Our shampoo bars contain surfactants such as SCI which is also called "baby foam". Finally, these bars are tear-free, making them completely safe to use for kids over 3 years. 
Q. Do they lather as well as liquid shampoos?
A. Yes, our shampoo bars lather up really well, just like your favourite liquid shampoo. 
Q. Are these bars chemical-free?
A. Everything in nature is a chemical. For example, salt and water are chemicals. However, they are naturally found chemicals, which aren't harmful to the environment or our bodies. 
Our bars contain such chemicals - derived from natural sources. This means that you can use them without any worry about your skin/scalp adversely reacting to it. Once washed down the drain, they do not negatively affect the groundwater too. 
Q. How are the ingredients sourced?
A. All our ingredients are ethically sourced from local vendors and manufacturers; most of which are even native to India
Even when sourced from outside, we make it a point to source them from sustainable sources.