#GoGreen for #BareDiwali Tip 1 – Green Gifting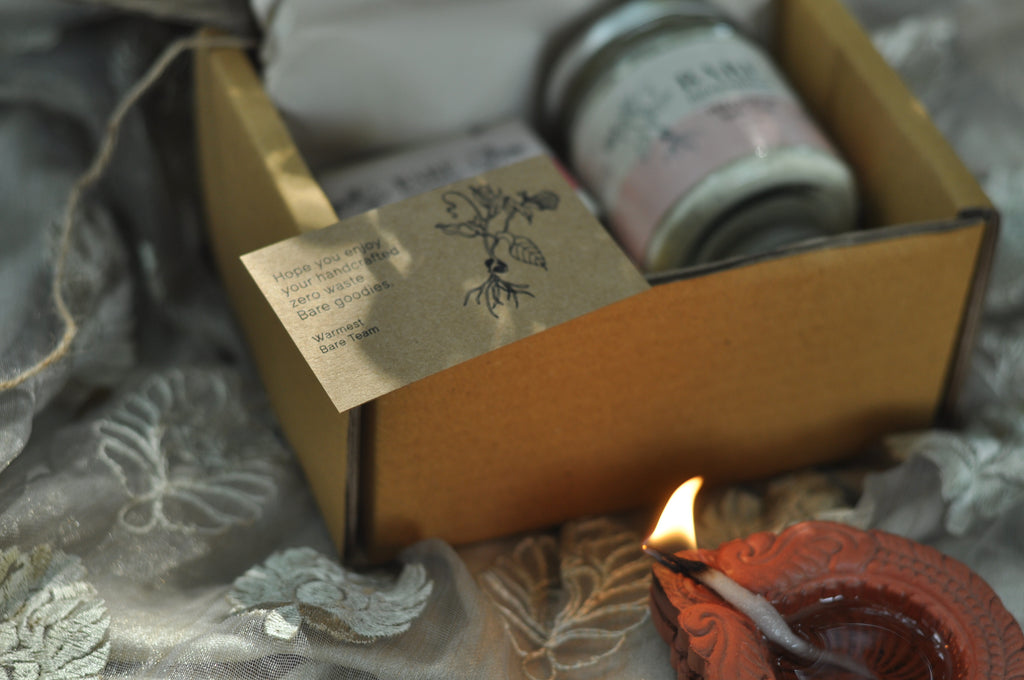 So to kick off towards a #GreenDiwali (yes, let's make this a trend!), here are a couple tips with regards to gifting!
Considering gifting is a major aspect of festivals like Diwali, transitioning to gifts that are not wrapped in 25 layers of plastic or single-use plastic can really help for a healthier environment. There are lots of gift options out there that are low-waste and have minimal impact on our planet
Buy local products and support small social enterprises

 

– Supporting those who are truly trying to help local communities, or businesses attempting to make positive changes is a major way we can all decrease our impact this Diwali. Like buying jam/pickle from the aunty in your building to gift-shopping from enterprises that are in alignment with your values – while we're on this topic - check out our

 

Bare Necessities Zero-Waste Gift Bundle ;)
Gift a plant

 

– It is known that bringing nature into your home can bring happiness and prosperity. And this is what we all wish for each and everyone, especially during such amazing festivities.
Make your own gift cards –

 

Remember those days when personalization in gifting was everything? When creativity was everything? Rather than buy gift cards from stores that are wrapped in plastic, let's all make personalized gift cards! They're fun to make, and also make for a great gathering (a night to come together, have fun and get creative!)
Support local fashion and organic brands

 

– Google is all our best friend, and simply searching sustainable businesses around you can really help you find sustainable alternatives to gifts you'd otherwise purchase over the past years! If you have any ideas on this, feel free to comment and share for everyone to see :)
There is a lot we can do to become responsible consumers and spark the change towards sustainable lifestyles, and #GreenDiwali!