How Harper's Bazaar helped build Bare Necessities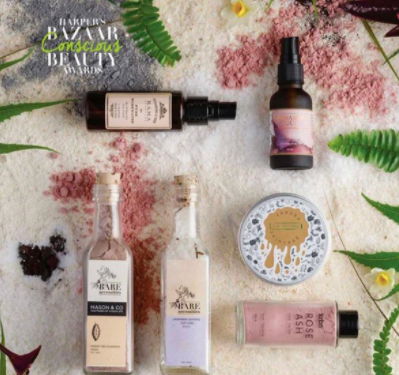 In 2017, Nonita Kalra and the Harper's Bazaar team generously invited Bare Necessities to be part of the Best of Bazaar Conscious Beauty Awards for homegrown brands. There were literally just 5 small businesses in this space at the time; we spent the afternoon talking about our young brands, unique journeys and our products with the jury. 
I remember, being nervous, confused and intimidated, all at the same time. Back then I was working full time, 6 days a week and Bare Necessities was my side hustle. In 2016, when Harper's Bazaar asked me to send over boxes to the jury to test and evaluate, I was excited! But wow, did I have lots to figure out. I was primarily selling B2B and white labelling for another brand. I would use any shipping box that I found, stamp it with a Bare Necessities stamp, upcycle and dispatch it. 
Cut to the day of the awards, and I see all of our products on display. But upon getting closer to them I noticed some of our labels loosening their grip! In an attempt to use the most ecologically sound labels, I failed to pick the label that would actually stand the test of time, in terms of durability and aesthetics.
Nonita was warm and welcoming, but most of all authentic. And in true Nonita style, she didn't hesitate to narrate a story of another founder working on another product line. The said person, when contacted in a similar way (much like me), didn't reply for months. One fine day she called Nonita and said: "I am ready to talk about my brand now". 
This was Nonita's way of telling me I wasn't ready.
I have always appreciated and admired this particular trait of hers - honesty and authenticity - due to which she never holds back on giving you sound advice.
Being a 24-year-old founder at the time, this was exactly what I needed to hear! 
In addition to the learning Nonita imparted to me, there were numerous other takeaways from the awards process, it being my very first one. The feedback received from various industry experts was instrumental in sharpening the product range and strengthening Bare's business vision. 
Truly the advice I received from the panel was invaluable; they were all candid in sharing their experiences with Bare products. Dermatological advice from Dr Kiran, advice on storytelling through packaging from Radhika, feedback on customer experience from Kalyani (she shared her nostalgia while using our Terracotta bath scrub - filled with ingredients familiar to her childhood -  growing up in Calcutta), Mini's advice on inculcating values I admired into the brand ethos and finally,  
Harathi's seasoned advice on capturing people's minds by narrating unique stories for each product. All of these conversations and learnings helped us refine our goals for Bare Necessities. 
Jump to 2019 Nonita called me again to be a part of Harper's Bazaar conscious beauty awards, except this time to be on the other side, judging the budding new brands.
When I met Nonita this time, she remarked, "You led the zero waste conversation and therefore movement in India". This was her way of telling me that Bare and I have grown and honestly that meant the world to me.
Over the years, this space has exploded, I would like to say this is largely because of Nonita championing the cause and fostering this community of homegrown brands! 
Thank you Nonita & the entire Harper's Bazaar Team, it's been a pleasure interacting with you all over the past 4 years! 
Thank you for encouraging small brands like Bare, right from the early days when no one else noticed us! Wishing you all prosperity, happiness and realness in your future endeavours!
Written by: Sahar Mansoor