The Journey of Bare Necessities - India's first Zero Waste Brand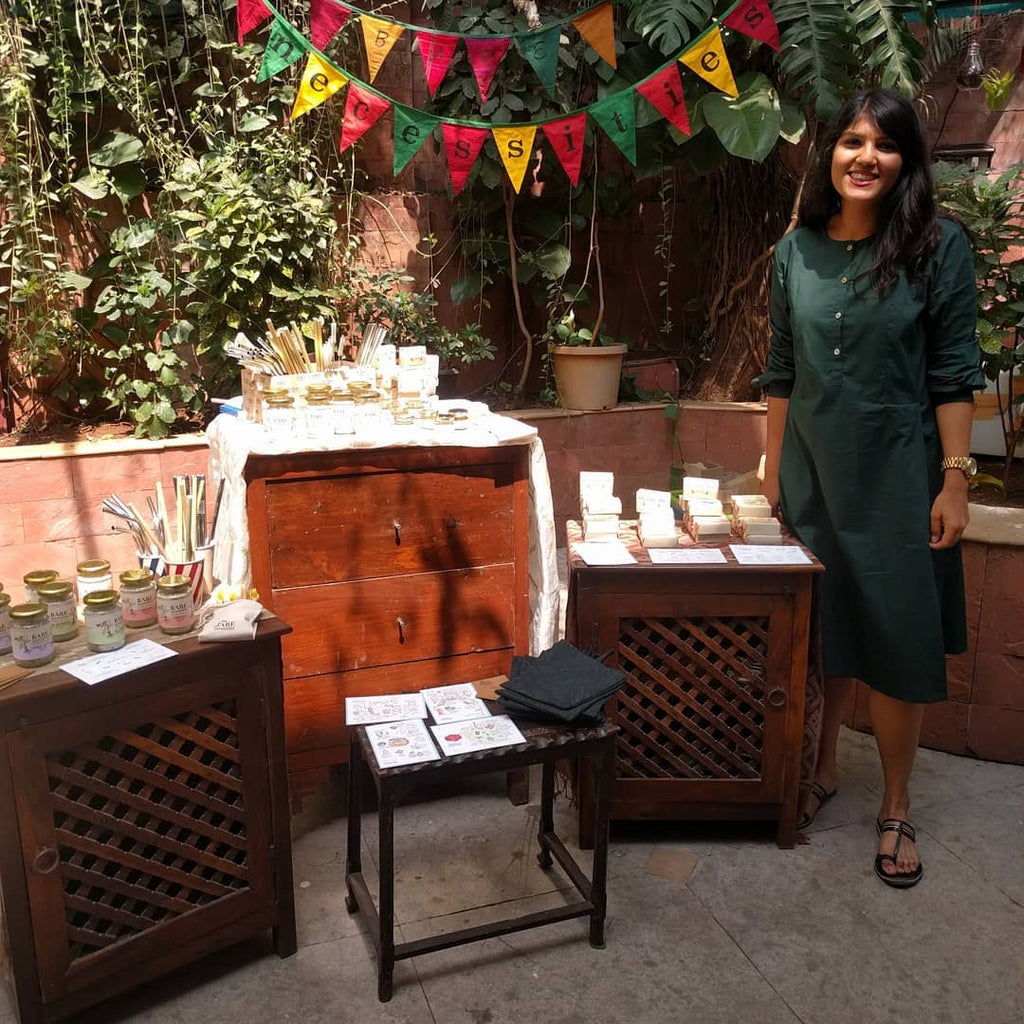 Hi, I'm Sahar Mansoor and I am attempting to live a zero waste lifestyle.
Following waste pickers or waste warriors (like I like to call them), I witnessed them segregate broken glass, sanitary napkins and needles all with their bare hands. (pause)
This experience was also a cultural eye-opener as it allowed me to better understand, the stigma and social justice issues associated with our waste problem.
I wanted to stop being part of the problem. This led me to dedicate myself to both - living a zero-waste life and building a brand that reflects my values.
I started Bare Necessities to change the waste narrative in India and beyond. By providing high quality products that are designed not to land up in all oceans and landfills, which means there is absolutely zero packaging footprint associate with a product!
We are building the Lush of India and on track to divert 500 Kilograms of plastic 2025.
Bare Necessities is creating zero waste alternatives to
conventionally toxin formulated
and plastic packaged personal care products; by doing so -
we're addressing the largest global garbage crisis of our lifetime.
Through our holistic, two pronged approach in the form of zero-waste products and our sustainability education initiative, our extensive R&D, our innovative waterless modeled products - results in reduction of energy, plastic waste and carbon dioxide emissions by 80 to 90% as compared to traditional alternatives.
We are bringing innovation in industry that has not seen any innovation in the past 30 years.
Through our strong inclusive employment philosophy, transparent sourcing, refill program and UNESCO recognized sustainability school with 35,000+ graduates and a reach of 2.5 million people. We are raising awareness about sustainability in easily digestible pieces, and also using this platform as marketing leverage, rather than relying on traditional marketing.
We are the future of conscious consumption.
We are not just the first mover in the zero waste space in Asia; we're also a thought leader, through my Penguin published book, innovative products and packaging, and community building strategies. I want to build a scalable model of production and distribution, that has a low environmental impact. I hope to also make this model accessible to other entrepreneurs to provide them sustainable solutions that they can replicate with well documented learnings and failures from my past, so they don't make the same mistakes I made. 
I am happy to report, Bare Necessities is named the top five handcrafted Brands in India by Harper's Bazaar magazine. And I have been titled the most inspiring Indian by google India and I was the youngest recipient of the Doshi Bridge Builder Award.
Why do all this? Let me tell you.
My experiences volunteering in Jamaica, Democratic Republic of the Congo, Guatemala, allowed me to expand my definition of interculturalism and inequality. It was here, that I understood the power of women coming together. These experiences inspired me to build a strong woman manufacturing team (largely of underserved women).
While studying in Los Angeles, The University of Cambridge, working at World Health Organization (WHO) stimulated my mind; it was the volunteering that educated my heart and inspired me to lead with compassion and that's why I bought in a Geneva based leadership coach to provide pro bono coaching for all of us; whether you graduated from Harvard or have no formal education at all.
Let me tell you about Shabreen; she started off in manufacturing team, rose to become head of the manufacturing team, promoted to become assistant Operations manager; took a Computer course, learned to ride a bike, bought a bike and purchased a home for her mum all in the span of 4 years!
This is why I'm passionate about building a sustainable business environment, with social and economic goals, seeking to divert 500 Kilograms of plastic from our oceans and landfills; while creating 4000 stable, green jobs by 2025!
Written by: Sahar Mansoor