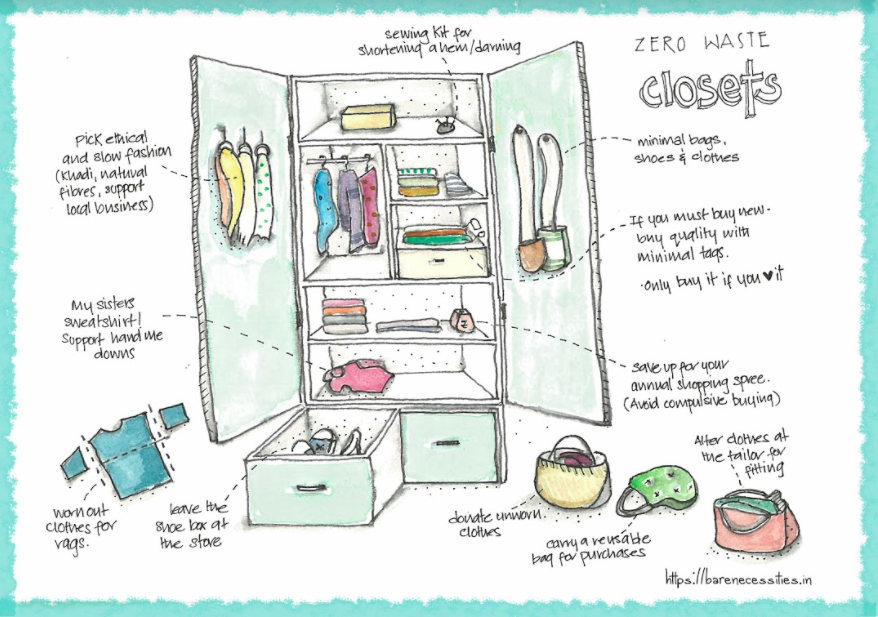 This Fashion Revolution Week I thought of writing a Zero Waste Closet Post! 
Stick to minimal wardrobes, shoes and purses.
Only shop a couple times a year to avoid compulsive buys. When do you shop pick ethical fashion and slow fashion (Khadi, natural fibers instead of synthetic materials and support local small businesses) rather than fast fashion (H&M, Forever 21 etc).
Embrace hand me downs (I love hand me downs from my sisters)
Shop at thrift store (Less common in India, but how about a clothes swap with friends?
Only buy it if you love it.
Bring a reusable bag for your purchases.
Donate unworn pieces.
Keep some of your worn-out clothes for rags.
Learn of few sewing tricks (hemming or darning come in handy!)
Support local economy – Go to your neighborhood tailor, for alternations or making new clothes.
Always keep a handkerchief in your purse/bag…Best reason to carry a handkerchief is to lend it.
Leave shoeboxes at the store.
Zero Waste Closets Illustration by Noorain Ahmed
(Sharing the post and illustration for education and awareness is encouraged, however not without attributing credit to barenecessities.in and the illustrator Noorain Ahmed)