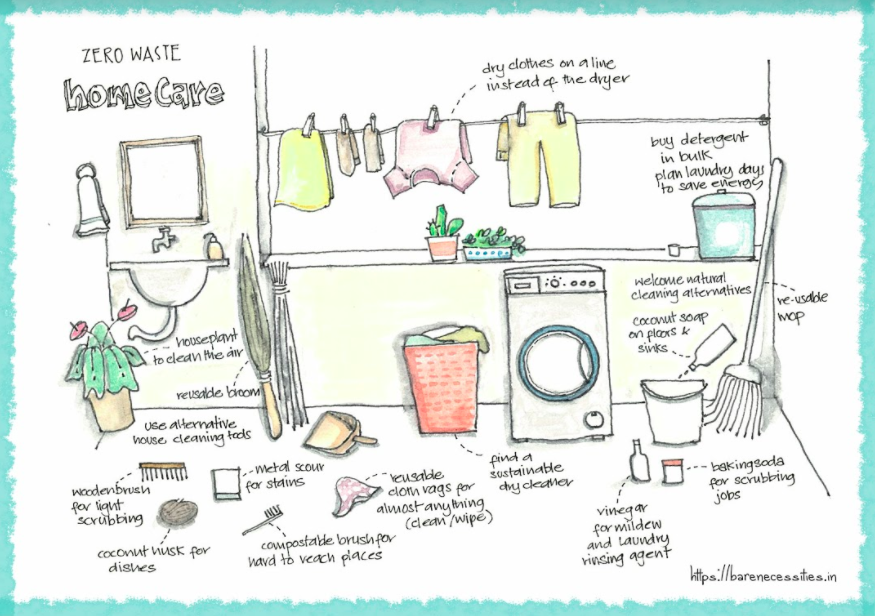 Welcome natural cleaning alternatives: Coconut soap on floors and sinks, homemade all purpose cleaner, baking soda for scrubbing jobs, and vinegar for mildew.
Welcome alternative house cleaning tools: a metal scourer on stainless, coconut husk (the brown husk adorning the top of the coconut that we rip off before cracking it open.) excellent for scrubbing dishes, or use a wooden brush for light scrubbing, an old compostable bamboo toothbrush for hard to reach places.
Use reusable cloth rags for everything else (counters, floor, fridge, mirrors etc.)
Sweep your floors with a reusable broom, wash with a wet mop and a few drops of our bare necessities surface cleaner they come in two flavours lemon and neem and citronella.
DIY: home care products!
Use worn-out clothing items made into rags on your un-washable messes (wax/auto grease/glue/caulk).
Buy dishwasher detergent in bulk and use white vinegar as a rinsing aid.
Let houseplants absorb toxins and clean your air. Open a window instead of plugging in an air freshener.
Try our bare necessities laundry detergent - powerful and effective, hypoallergenic, baby safe laundry detergent gets rid of stubborn stains and life's unexpected messes naturally! Come in lavender and unscented.
Try our bare necessities dishwasher detergent (made from reetha or soapnuts). Feel free to experiment with chalk, lemon or vinegar, they all work great on stains.
Dry on a line instead of using a dryer
Iron fewer things
YOU CAN ALSO… find a sustainable dry cleaner (one that offers a reusable garment bag and non-toxic cleaners)
If you are using washer and dryer: Laundry washing once a week saves time and dryer energy costs, use a laundry detergent sold in bulk, full loads, and cold watercycles as much as possible. Compost dryer lint and dust bunnies.
Illustration by Noorain Ahmed 
(Sharing the post and illustration for education and awareness is encouraged, however not without attributing credit to barenecessities.in and the illustrator Noorain Ahmed)