#MASKED - A SERIES OF INTERVIEWS WITH INSPIRATIONAL WOMEN. IN THE SPOTLIGHT - SAMANVITA SHETTY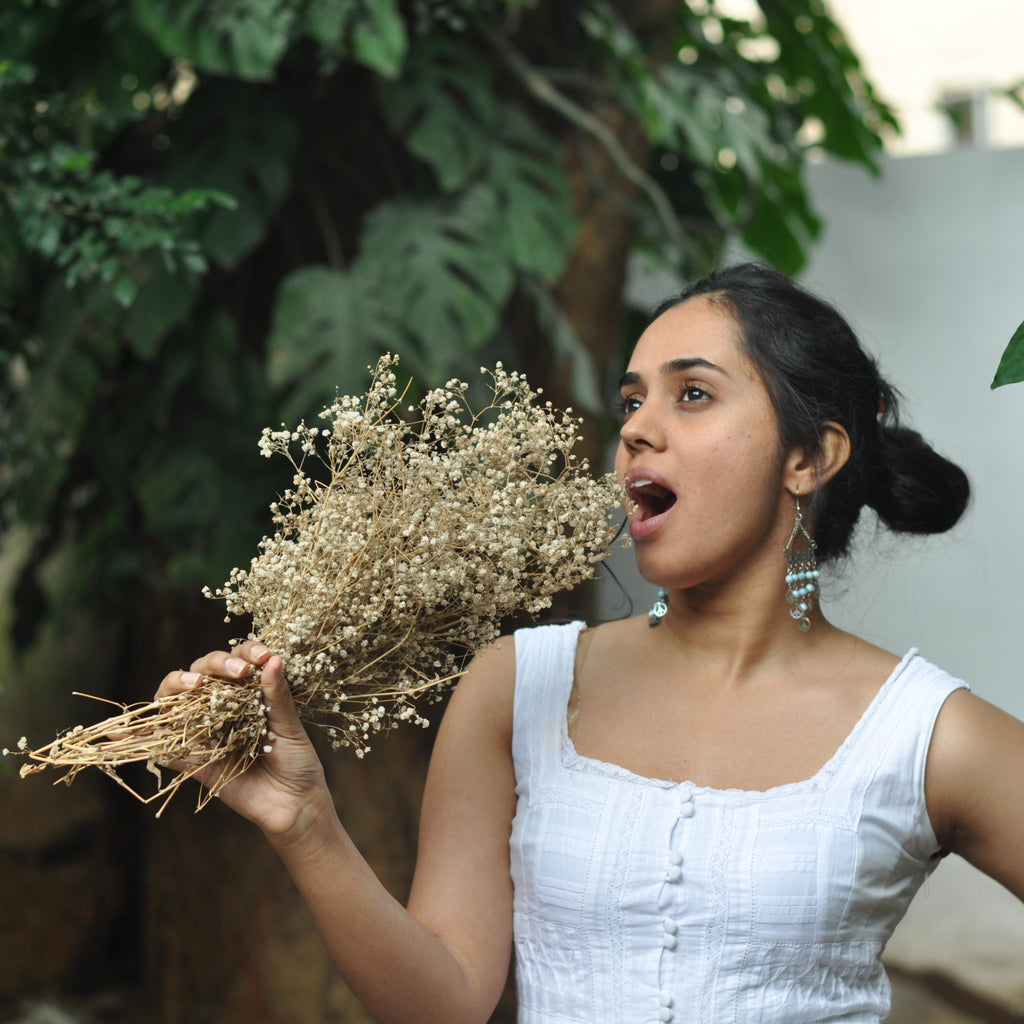 A pretty looking face, a lawyer and an actor. Our next woman hustler of the #Masked series is Samanvita Shetty. She is that person who is acquainted with every nook and corner of Bangalore. A true Bangalorean by heart, she loves to be surrounded by nature and a firm and ardent believer in conserving the environment. And, that's what we love to do at Bare as well. In fact, that is what Bare is all about. We have been quite fortunate enough to be acquainted with amazing people who share our philosophy and with whom our thought process resonate. Samanvita was surely yet another such soul. As you all know that since the month of July we have been interviewing women hustlers who have inspired
us through their career choices. It was just a couple of emails and a phone call and Samanvita agreed happily to our proposal. Being an actor herself, she was in fact the kind of person who was quite conscious about what to wear for the shoot. Yes. So, we also do a small photoshoot to go along with the words which are quite a tradition in itself. Something which we have been following since the time we started with the #Masked series.
                                      Samanvita Shetty. Lawyer and Actor.

The shoot happened at the Bare office at Infantry Road on a Thursday afternoon. The date to be precise was 24 Oct. As always, the setup was humble and the chosen products by Samanvita for the shoot were Rosy Cheeks Makeup Remover, Multani Mitti Face Mask and Bamboo Straw. We also did include
the Reusable Makeup Wipes as it went well with the Makeup Remover. Amid the beautiful greens at Bare HQ we had a lovely time doing the photoshoot with Samanvita. She was also quite a pro with the type of lighting which would look good in the photos or the background and even the angles.
     Check out her Instagram handle: https://www.instagram.com/samanvitashetty/

Here are a few excerpts from the shoot and the Q&A session over mail. We had just put forward two questions which she happily agreed to answer.


1) Tell us about yourself, what got you started thinking about zero waste.

I am Samanvita Shetty, a lawyer and an actor and I am a firm and ardent believer in conserving the environment. I believe that the onus is on us to primarily conserve our natural resources which are, as the world is already aware, depleting at a rapid rate. Hence, I am one of your girls next door who takes baby steps in trying her best in saving and conserving such resources.
For example, I have started taking a bath by filling up a bucket vs spending long hours under the shower. I try and make use of public transport as often as I can. I love the Metro rail and make use of the Metro as and when possible and I would love for Bangalore to be better connected so that more people can use the Metro more frequently! I try and minimize my use of plastic as much as possible. I want to be part of movements or activism that aid the environment. Considering I am a lawyer too and if I ever venture to do my Masters in Law, my first choice for a specialization would be in environmental law. To cut to the chase, where better to fuel my keenness in environmental activism than with a collaboration with Bare Necessities India! 😊As regards zero waste, I had read up about zero waste but I was further intrigued by it after hearing the work my batchmate and friend Sahar does in her organisation. In a way, Bare Necessities got me more educated about zero waste 😊 (Not kidding!) Kudos, Team Bare! The world is choking with all kinds of junk, the waste that human beings so mindlessly discard and the zero-waste route is a much-needed resolution of the hour and we must all try and incorporate that into our daily lives in the tiniest of ways to begin with. Happy to collaborate with a company that lives by it with all its soul.

2) What does nature and positivism mean to you?

Being a girl brought up in urban landscapes all through (true blue Bangalore city Hudugi), I was your typical young teen who screeched at the sight of insects.
So, as a child, I always associated nature with creepy crawlies and I would be petrified at the thought of camping out in the open or visiting my grand folks place in Udupi during the monsoons. However, at the same time, I was always that girl who appreciated the trees in her Alma Mater so much during sports practice because standing in attention in the hot sun during march past practice for Sports Day under the "Main Tree", a huge very accommodating rain tree that largely covers our school sports ground, was always a big relief from the scorching sun! The shade that that mighty work of nature provided was unparalleled. That was my first brush at appreciating nature and it has only augmented since then. I am a nature junkie be it gaping at the Himalayas in wonder to appreciating the verdant foliage on the drive up to Nandi Hills, I am in complete awe of nature. Dumbstruck. Overwhelmed. Tears welling up in my eyes like that adorable WhatsApp emoji. Tell me to camp out in the open now with just a book in hand and I would say yes in a heartbeat! Talking about positivism, I believe that nature quite naturally induces feelings of positivism and well being in a person.
Being amidst nature brings me such joy that I actually cry happy tears while breathing in buckets of oxygen and gazing at rich and lush scenery!
Positivism as a standalone term is something we need more of in an otherwise dreary, increasingly concrete world. Notwithstanding our personal problems,
I believe we should try and spread as much positivism, laughter and good vibes among our friends and family and even on our social media handles
(whether you are an influencer or not) because it is on us to keep the place we live in, an environment conducive to breed love and empathy among our
fellow beings because that's what makes the world go round.

3) Given your busy schedule, what is your self-care routine to restore balance?

I am a fitness junkie so my self-care routine involves at least an hour's workout in the gym in the day. I try and meditate and do some Surya Namaskars in the mornings. Haven't been very successful to implement that meditation– Surya Namaskar routine on a daily basis but I am working on it.
😊Music is the closest thing to nature that keeps me going on days when our city-bred folk don't get access to nature. Apart from the above, I believe in doing things in moderation be it in your diet, your workout regime, or your lifestyle habits. On the days when anxiety gets to its peak, I try and placate that anxiety with some good ol' rationale. Life is pretty much all about balance quite like Lady Justice!