Bare Necessities Named Top 5 Handcrafted in India Brands by Harper's Bazaar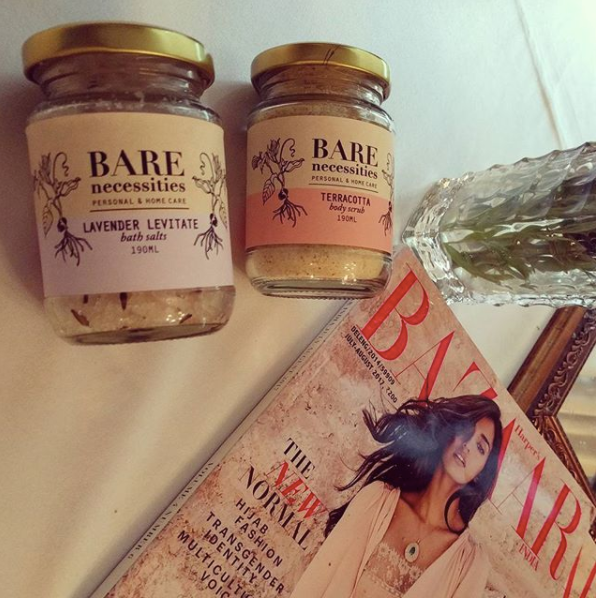 Bare Necessities was lucky enough to be named the top 5 handcrafted brands in India 2017! 
How was the experience of building a beauty brand from scratch?
Translating my zero waste philosophy into products for those looking to consume more mindfully has been exhilarating. It has made Bare Necessities more than a beauty brand;it is a zero waste personal care, home care and lifestyle brand but also a hub for awareness on waste-free living!
Everyone has a story to share; learning about the inherent connect people have with native Indian ingredients was a revelation. The power of storytelling is very much part of our Indian culture and this was unmistakable in my conversations with family and close friends. Going back to basics like what they did before shampoo was sold in plastic bottles or what toothpaste comprised of, opened a plethora of stories.
Fashioning and creating products from ancient ingredients while keeping in mind the quality and standard requirements of a modern consumer has been a challenging process with deeply rewarding outcomes.  
In this journey, witnessing consumer response and receiving feedback from our customers is undoubtedly the most gratifying experience. It has inspired us to pursue and achieve the brand's vision. Our early adopters have set a foundation for a zero waste community and we hope to build a robust ecosystem with like minded consumers, communities and organisations.
The recognition given to sustainable business within various industries has helped raise awareness in the importance of conscious consumption. Be it the  Make In India campaign or being titled Google's Inspiring Indian of the year, support within this space has helped us introduce zero waste in India - a relatively new concept in the Indian, as well as global market.
What gives you the drive/passion to create products that are handcrafted in India?
I think there is a lot to be celebrated about India. India is the land of yoga, the land where the sacred is revered in every river and mountain. The land of sensory overload - aromas, scents, textures, colors all come alive to make India, India! At Bare Necessities we attempt to celebrate the beauty and richness of India! It is exciting to incorporate indigenous, ancient ingredients whose benefits we have probably heard of but never really experienced for ourselves such as, turmeric!
Much like the hidden treasures buried away, turmeric - coined the magic herb, works wonders with its powerful anti-inflammatory and antibacterial benefits. These properties make for remarkably effective personal care products.
BN also seeks to capture the essence of India - constantly in a state of transformation yet timeless. At BN we try and marry the old and the new! We take a cradle-to-cradle approach to every product, from the design to manufacturing to distribution. All our products are powered by natural, bare Indian ingredients; which have no harmful impacts on our health or environment. Our raw materials are ethically sourced. All of our packaging is recyclable or biodegradable, which means nothing ends up in a landfill. All products are handcrafted by women in Karnataka.
Tell us about your experience as a participant in the Bazaar Best of Beauty Awards.
Being the youngest handcrafted in India brand, It was an amazing experience to learn and grow from Pahadi Local, Ayca, Skin Pantry and Gulnare's experiences in nurturing their brand.
The Harper's Bazaar by virtue of the 'Best of Beauty Handcrafted in India' gave us platform and community of like minded women founders, to discuss the holistic visions for our brands within the larger ecosystem of Indian inspired, beauty and wellness brands. The awards process gave us a first hand impression on the scope of our brand in the natural beauty and home care space.
What was your learning from the awards process?
Feedback from various industry experts was instrumental in sharpening product range and strengthening the business vision of Bare Necessities.
Truly the advice from the panel was invaluable; they were candid in sharing their stories of experiencing your products. Dermatological advice from Dr Kiran, storytelling through packaging advice from Radhika, customer experience feedback from Kalyani, (she shared her nostalgia in using our Terracotta bath scrub - filled with ingredients familiar to her childhood, growing up in Calcutta), Mini's advice on bring values you admire into your brand ethos and Harathi on telling unique stories for each of your products. All of these conversations and learnings helped us refine our goals for Bare Necessities.