Celebrate your loved ones with these zero-waste gift kits!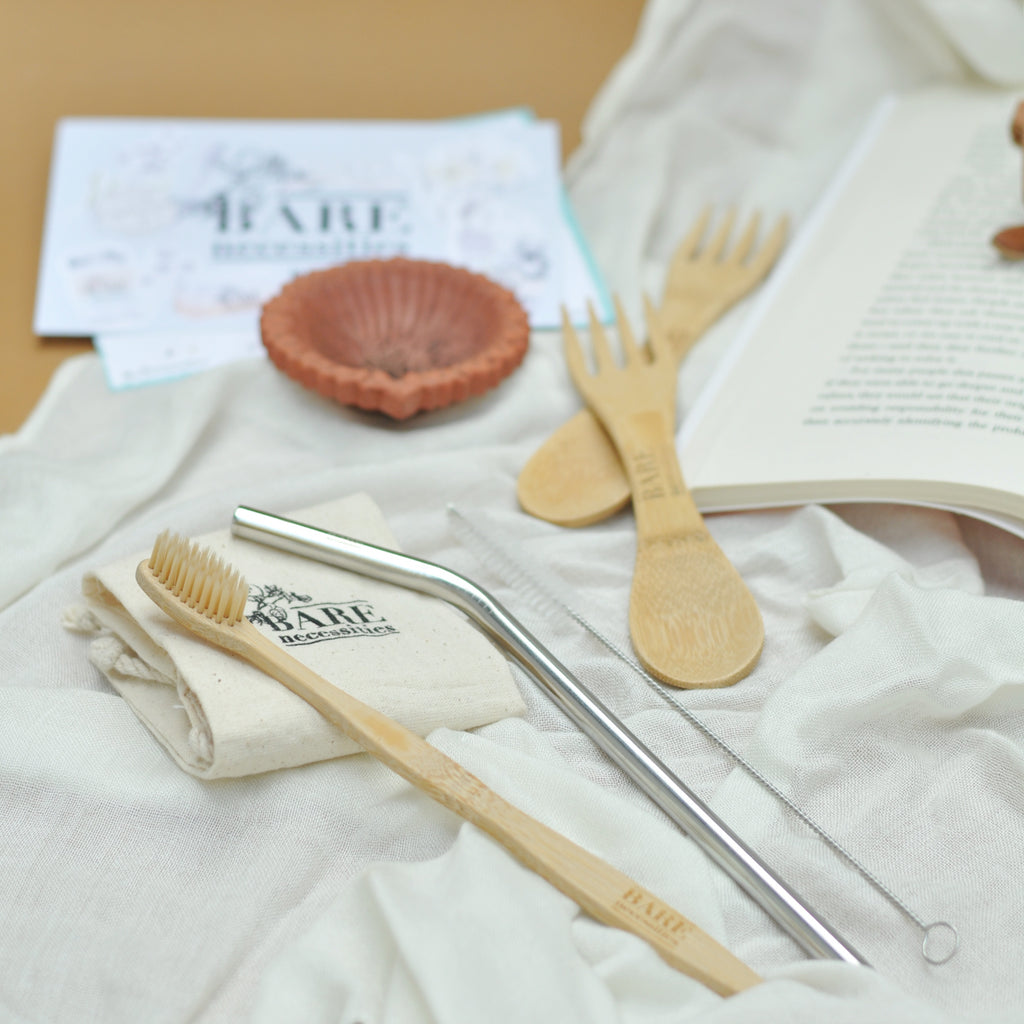 It's that time of the year again! Where it's gifts and treats galore.  Now that you're aware of the need to be mindful while gifting, and some of our favourite ways to show love and appreciation during this festive season. Over here, we wanted to talk to you about some of our products that scream love and appreciation, while still being mindful and of course, zero-waste. 
Festive Gift Bundles: Stating the obvious, we know. Pamper your favourite people with some Bare goodies that will help light up their faces instead of those pesky crackers. 
Happiness Gift Bundle: Aim to break the rather solemn spirit the whole of 2020 has been with these goodies that will

surely improve one's physical and mental well-being! 
Gratitude Gift Bundle: We've all learnt the value of close family and friends and are holding on to them dearly, right? Go the extra mile with this bundle that is perfect to express your love for your parents, spouses, siblings (that way you don't have to actually confirm that you love them) and friends.
Christmas Gift Bundle:  We've arrived earlier than Santa this year, with this bundle for the joyous season. Of course, this can be gifted at any other time as well, but we're giving it this name because it embodies the spirit of the season - merry and cheery! 
The Ultimate Dental kit:

 

What's the first thing we all do in the morning? Not checking phones, we hope! We presume everyone brushes their teeth in the morning, right? And it's often with plastic brushes. But did you know, that every plastic toothbrush you used since you were a child, is still there somewhere on the planet?! We don't want to begin our day on a wasteful note right? When you give your loved ones this dental kit set with a toothpaste, toothpowder and a tongue cleaner, you're ensuring they really start off on the right foot! Now, who wouldn't love something like that?
Bare Homecare kit: We've all spent the majority of 2020 at your homes, right? The introverts enjoyed it, and while the extroverts couldn't wait to get back out! Regardless of personalities, we've all paid more attention to our homes and everything in it, as we should. 

With this kit, you're not only being practical with your gifting choices but also ensuring they aren't exposed to harmful chemicals found in most cleaning products. Nothing better than the gift of health, right?

Of course, these are kits we curated to cater to as many of your needs as possible. But do feel free to check out the several other thoughtful products we have available on our website. We assure you, there won't be any disappointment as we like to believe that we're the gift that keeps on giving. 
Written by: Reshma Bhat