CHIREC International School - Sustainability for Kids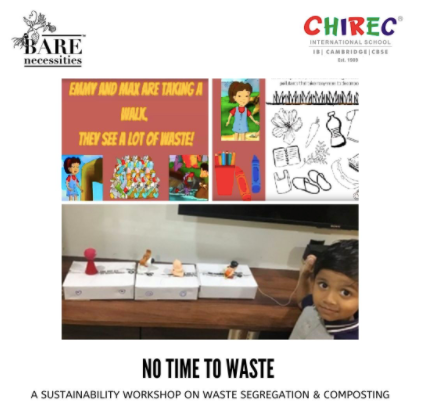 With all that's happening to our world right now, it's important to help our young citizens become aware of the problems around (without being overwhelmed, of course) and the solutions we need to work towards to resolve them. In case you aren't aware, we're Bare-y fond of kids and their undying enthusiasm to learn new things. Which explains our excitement when we were asked to conduct fun sessions on zero waste living for the students of CHIREC International School, Hyderabad.
Series of educational workshops for the students of CHIREC 
Being so well versed in all aspects of sustainability, the school was looking for an organization to help conduct sustainability talks and workshops. When this idea came up, Bare Necessities was recommended by a colleague who was also engaging with them in another project. And thus, the inception of a fruitful partnership was established!
The goal was to empower young people to meet global challenges with confidence and skills of a high order acquired through innovative learning and technology and to inculcate in them the values and mindsets of independent, engaged and thoughtful world citizens. 
Fun DIYs and activities to break down sustainability for the Eco-warriors
Over the course of three months, starting in January 2020, we began to break down various topics including sustainability, waste management and going green during festivals and parties to these bright minds. The children's favourite part (and ours too) was the DIY activities we'd do together to help them really take charge of their future.
We started off by breaking down sustainability to them through fun stories, easy to follow DIYs like a tote bag from an old T-shirt, making play-doh from items in the kitchen and more. With each session, we were excited to see the enthusiasm the children had, to help fight 'the bad guys who generate plastic waste.' Cute, isn't it?
CHIREC's experience with these series of workshops on All Things Sustainability
Aneesha Reddy, a member of the managing committee at CHIREC said, The Bare Necessities workshops conducted for our students over the months raised awareness about our most pressing environmental problems and discussed simple and easy changes we can all adopt to minimize our impact.
The workshops were presented in a child-friendly manner through stories, popular characters and fun activities, which helped students easily relate to the complex problems and systems.
The entire team at Bare Necessities, undoubtedly, has a lot of experience and practical knowledge about the sustainable solutions they are offering. This made it very easy for them to answer student questions, debunk myths and motivate our community."
Over the months they progressed in their knowledge of sustainability and familiarized themselves with composting, and ways to help their families reduce their food waste too!
The kids who ranged from the age group of 4 to 16 years, all were passionate about each topic and always had insightful questions for us at the end of each session. Aneesha added, " It was really lovely to see all the positive comments and feedback from the students during the sessions. I truly hope we were able to mould a few more eco-warriors for the planet! 
It was a lovely experience working with Bare Necessities on this 3-month project! They were just as invested as the school in making these workshops a success. The team diligently took feedback after every workshop, incorporated suggestions and made each workshop better than the previous!"
A lot of educational institutes now have been making a conscious effort to ensure their students are armed and ready to tackle all that is happening to the environment. A great way to do the same is through meaningful workshops that also have an element of fun in them. Aneesha continued saying, "Such initiatives show our students what is possible and inspire them to bring change in their own homes and communities. Through this approach, we are able to create a generation of students who are conscious and engaged citizens and will contribute positively to our environment and our world. Having a series of workshops, as opposed to one-time sessions created an environment of continuous learning and responsibility amongst the students."
One of our favourite parts was when we got to see the students bring to life the DIYs we learnt together. One of the students who tried out one of the DIYs from the workshop on festive events said, "Thank you for this session! Was amazing! Will surely try them! I tried the tie-dye DIY and came out really nice! I really like tie-dye shirts! Thank you!"
About CHIREC
CHIREC has been active in preserving the environment ever since its inception in 1989. Over the years, they have adopted a three-pronged approach to their sustainable initiatives. They began by adopting green practices across all their campuses through solar power generation, rainwater harvesting, vermicomposting kitchen waste and following a minimum waste ideology in all its activities. The school also initiated recycling kitchen wastewater for gardening with a design from EPTRI back in 1996. Seeing the huge benefits of rainwater harvesting over the years, the school, through its CSR activities is also supporting government schools in the neighborhood to capture rainwater and recharge their borewells. This year, CHIREC is also funding the restoration of a 200-year-old stepwell in Gachibowli. This historic and monumental project will act as a natural and additional source of water, bringing immense value and benefits to the community.
Contact us for more information!
At the end of the day, we felt like we learnt so much from the students; their enthusiasm, keen interest and proactive attitude really helped us feel secure about the future of our planet. Looking to help your students tackle climate change with a positive attitude? Contact us to help them get introduced to sustainability and its importance and watch them blow you away with their newfound zeal!
If you too are eager to help our future leaders and give them the tools to tackle all that's happening with our planet, we'd be more than happy to help them do just that and more with our interactive workshops embedded with lots of fun DIYs! We'll wait for you to contact us at info@barenecessities.in