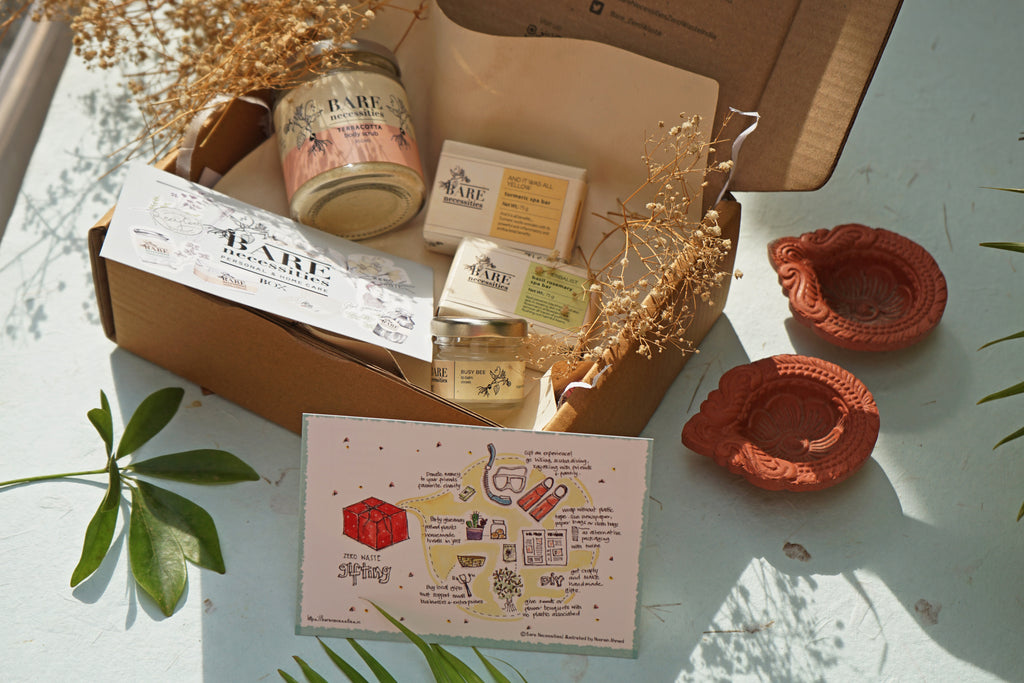 Can you believe that we're approaching the last leg of 2020?! This year, no doubt has witnessed all sorts of incidents and lessons being taught to mankind. And quite frankly, there have been more lows than highs. However, with the festive season approaching, we believe this year can end on a sweet note! 
Earlier in the year, we saw the positive effect us humans could have on the environment just by limiting our actions. This was, no doubt unsustainable, as it came at the cost of the economy. But we can still take the lessons it taught us - mindfulness of our surroundings, gratitude for workers and the crucial role they all play in the society and finally, the value of life itself.
Let us then approach the festive season with this attitude - to appreciate and uplift another, while doing the same for our environment. 
Getting on to the nitty-gritty of this whole concept of mindful gifting. How does one bring a smile on the face of your loved ones AND the environment? The gift of positivity! (Here, we go again. Just when you thought we were done preaching, haha). But really, nobody will turn down an encouraging word or two, especially with everything that's happened this year.
Books like The Great Animal Orchestra, a story of one man's pursuit of the purest form of natural music while highlighting the importance of conservation of one of the most beautiful resources our planet holds - the music of the wild, will truly help one to connect with nature in all its richness. 
Another great reading gift would be Bicycle Dreaming - a story of a young girl who longs for a green bicycle to become India's first kabaadiwali. Don't be fooled by the simplicity of the narrative, for it also presents to you the lives of the tiny children working away in garbage-filled landfills, and the dreams they work hard for.
However, everyone isn't a reader. We get it. Thankfully, mindfulness is for everyone. But everyone may not be aware of it. Help them kickstart their journey to a mindful lifestyle by gifting them an online course on going zero-waste or a webinar even, on mindful living (rest assured both these options are quite fun).
A huge element of the festive season is the attractive sales and discounts we're surrounded by. In fact, several businesses are fueled by consumerism during these periods. To top it off, a lot of these products come packaged in plastic and other harmful materials (if they themselves don't contain plastic, that is), which can irreplaceably damage the environment and even our health, in some cases. Don't be mistaken! We aren't demeaning festive sales and special offers. We're merely trying to redirect your attention to mindful purchasing, for the season. 
Choosing to purchase your gifts from ethical, mindful businesses that even curate special gift hampers for the same is, in Neil Armstrong's words, "One small step for man, one giant leap for mankind." It may seem small when purchasing just a single kit that is mindful of the environment and humans alike, but it does do a great deal to ensure for our oceans, soils, animals and even the economy since it fosters the growth of a sustainable economy. So you see, every single purchase you make has a huge say in deciding our future!
But what if you don't have the budget to invest in a gift kit that's loaded with beneficial, organic ingredients and mindfully packaged by ethical businesses and all that good stuff? Of course, there is a solution! Mindfulness is for everyone, remember?
DIYs (Do It Yourself) is the solution you're looking for. This is our personal favourite as well, as it proves that you don't need any fancy hamper or a huge budget. Just a spark of creativity to go with a few essentials to express gratitude to your loved ones. You could upcycle old glass bottles with some paint to create a beautiful flower vase, or compile a scrapbook of past memories or upcycle a beautiful tote bag from a T-shirt. Our pick, however, would be to make your own colours from ingredients you have at home like turmeric, mud and coal and create your own artwork. After all, the best things in life, like happiness and love, are free.
We hope that you found your solution for the season in this piece. At the cost of dreamy, we'd like to end by saying that while gifts are great, there is nothing quite like being there for your loved ones when needed most. 
Remember to keep the masks on your faces, but not on your spirits. This festive season, let's be bare with our sentiments to show that we care! 
Written by: Reshma Bhat