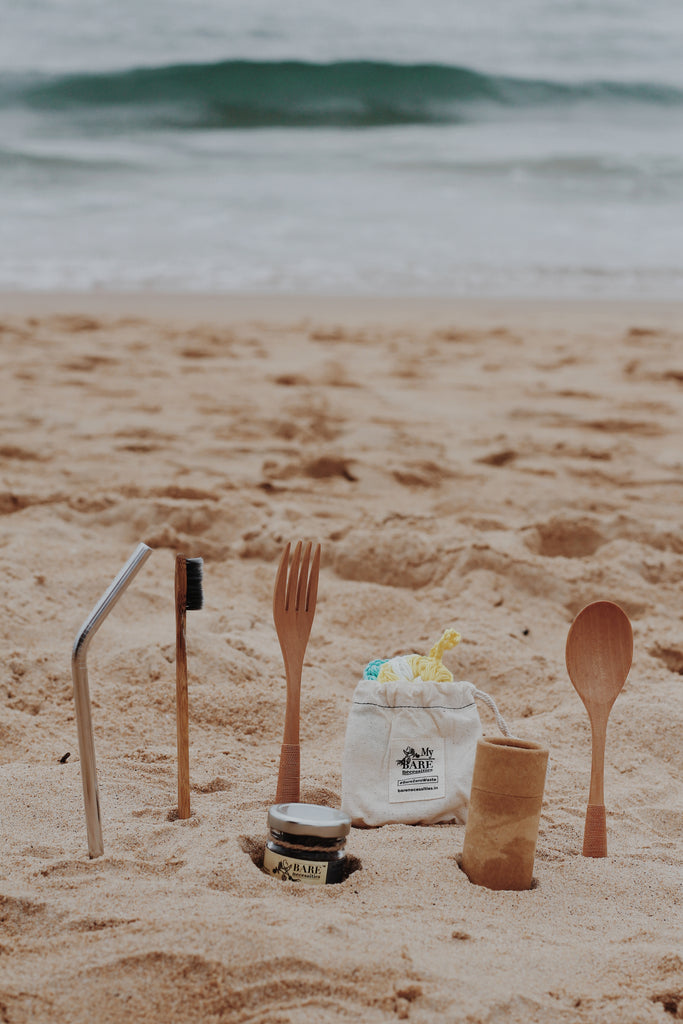 As exciting as planning a getaway can be, there's no denying that packing is the most challenging part of it all. Although, for avid list-makers like a certain someone I know (ahem, me), it's an organisation-packed field trip. No joke! Believe me when I say field trip because you'll find me crouched over my laptop on the floor making an Excel Sheet with everything I need to carry, meticulously listing each item, even in my makeup bag!
As some of you may be aware, I have temporarily made the move to Goa. Before I moved, I knew that this would be my first step towards the slow, minimal life I wanted to create for myself. So of course, packing had to be thought out!
So as I sit here, in a quaint Goan cafe, one month after seeing successful results (if I say so myself) of my mindful packing, I write about my experience, tips and tricks. Here's a mind map of how I pack smart, minimal and sustainable. Organisation fanatic or not, I hope this lowdown breaks the mammoth task down into a more mindful experience.
To Wear
Trickiest part first: what to wear. My goal was simple, I had a duffel bag and I knew everything I wanted to wear was to fit in it. I had experimented with a 10x10 capsule wardrobe before which was surprisingly easy. To make this challenge more exciting, I chose to move with only 20 items in total (shoes and bags included). I kept a window of 5 items to account for any collaborations/shopping. Fair enough right? 25 items. 60 days.
My verdict: surprisingly calming to own less. 
Questions to ask yourself before packing clothing.
What is the weather and my activity looking like? Choose fabrics, layers and types of clothing based on what you foresee you will be doing on your time away. For me it was beach days and WFH - so light fabrics and comfortable summer wear was the way to go.




What makes me feel good NOW? I find that while travelling (or even otherwise) it's so important to select pieces that are easy to wear and that fit you right now. Often we feel like we have "nothing to wear" because there's a lot of prerequisites to putting something on: "this needs a belt", "this only fits me on days I'm not bloated", you get the gist! Select things you genuinely enjoy wearing and can simply throw on.




How many ways can I wear this? With a little bit of planning, I got to a point where almost every top I packed matched with every bottom I packed. So if you've got 5 tops and 5 bottoms that all go together, there's an easy 25 unique outfits already!




How can I not feel restricted? Don't look at this guide or any other as a matter of fact rule. Be accommodative with what works for you, keep space for shopping, take an extra 1-2 items if you please! The idea is to be mindful and make the best use of what you have.

What have I been meaning to take on holiday? We all have those few things that we bought specifically for a dream vacay. Packing less doesn't mean compromising on the fun stuff. Be experimental, take that straw hat along and enjoy styling it! 



To Apply
When packing, I do a little walkthrough of what my typical morning routine looks like, which helps me jot down exactly what I need. Since I've made a lot of sustainable swaps in my everyday routine, I organise my supplies between 2-3 washbags - as the packaging can often be bulky. 
Questions to ask yourself when packing toiletries.
What do I actually need? Here I think of the basics, my Bare Necessities bamboo toothbrush, Bare Necessities Peppermint party toothpaste, Bare Necessities Bar Soap, in recycled tin containers, along with my shampoo bar. I use organic coconut oil as a substitute for moisturiser and literally go nowhere without the Bare Necessities Busy Bee Lip Balm. And a makeup kit with just the basics to seal the deal.




Will I run out of anything? A good way to ensure that you're using only the sustainable products that you've swapped to is to pack refills if you foresee yourself running out.




What

might

I need? The "nice-to-haves" of your packing list if you've got extra room or if you can plan ahead. I was sure to throw in a bamboo razor, Bare Necessities Lavender Laundry Detergent and Period Underwear.
To Live
As I've been making sustainable lifestyle swaps, I've identified certain products that just help me get by everyday with lower consumption. So whether it's a short trip or a two month move, these are my go-to items that help me continue living consciously even when on holiday. Tote bags (for shopping), an airtight box to take snacks down to the beach, a water bottle and Bare Necessities cutlery + metal straw.
So that's it! That's how I pack a little more mindfully and with some form of organisation. If you managed to get through my journey (and I hope you did!), I'll leave you with one parting thought: there's no one right answer to packing or living more consciously. Be kind to yourself as you try different things until you recognise what works best. We're all doing our best to learn and live with intention. 
Written by: Dhwani Kathotia