Things we love to do - Zero Waste Workshop at Masjid Modi School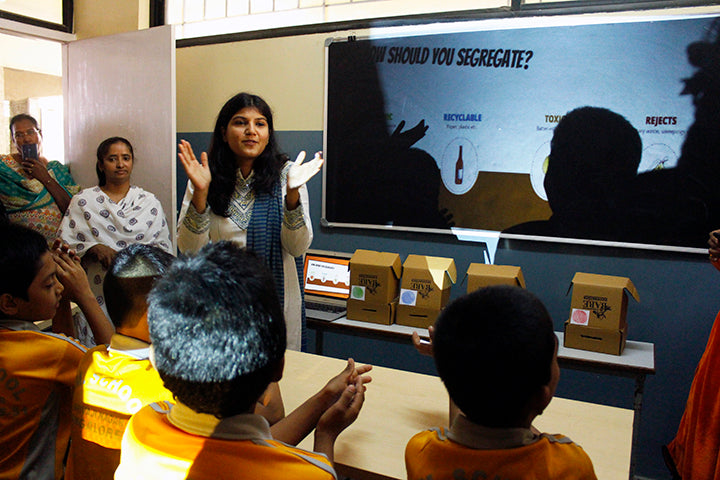 It was just two weeks back when Sahar along with a few of our team members were invited to do a workshop at Modi Masjid School. Basically, it's the place where Reshma's son is enrolled for carrying on with his academics. Reshma works in our manufacturing team and is a single mother who is responsible for raising her young boy. Workshops and talks have been the main element of Bare's journey since it's inception. It gives immense pleasure in creating awareness about waste management and taking care of your environment. And, through these workshops, Sahar and her Bare team have been teaching the masses about the same. To educate and inspire young minds is in itself a powerful task albeit a slow process. 
A bit about the event:
The main purpose of the workshop? To empower children by showing them how to change their daily habits and how they can help the environment by segregating rubbish and minimizing their own consumption of waste. The belief that they can bring about a change through their own habits was instilled in them. Small and young but with fresh minds and a bright future. The topics largely covered were Visualizing Waste, various types of waste and solutions on how to minimize them.
The workshop started with the most important question asked, "What was the last thing you threw in the trash today?" A noisy chattering came up from all over the place with words like chocolate wrappers, chips packets, biscuits and so on. Quite an enthusiastic lot they were. The first question was then followed by others like "Where does trash go after we throw away?" "How does it cause problems for cows and dogs who consume it?" "How can trash cause, water, air and soil pollution?" These round of questions had been successful in creating awareness among the children. By being mindful of what they throw away, it helped them to look into the matter in a much deeper way.
Most fun part of the workshop was the activity which was kept for the last. It was almost like a fun game where four boxes were made of different colours dedicated to each type of waste. Students were given a piece of paper with a diagram of one particular kind of waste. The students then had to identify the type of waste they had in the paper and which box that would go into. Extremely competitive students kept racing against each other and bumping to emerge as winners.Who could accurately segregate their waste the fastest?
A small pledge was taken at the end, "We promise to segregate all our waste". Students were then gifted Seed Pens and a stamp on their hand as a token of appreciation. Little "eco-warriors" who pledge to take care of their communities.
Few snippets from the workshop:
Sahar Mansoor (Founder, Bare Necessities)
Shabreen (Manufacturing Team, Bare Necessites)
  Left - Students enthusiastically taking part in the activity. Right - Reshma (Manufacturing Team, Bare Necessities) and Alana (Intern) giving away Bare goodies to the students.